SkinNinja - The UK's newest app to check what's in your skincare and cosmetics - and help you find healthier alternatives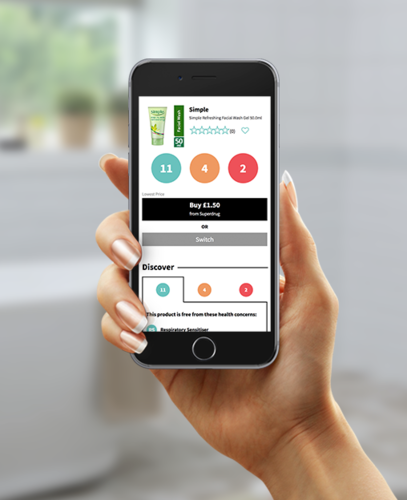 Now, we all have access to transparent, unbiased health information and can make our own purchase decisions - for ourselves. Without the BS.
SKINNINJA APP (SkinNinja.com): Driven by the Founder's own battle with Skin Cancer, Jo Osborne has created a free app that enables consumers to discover what health concerns (such as Contact Allergens and Carcinogens) are in our skincare, cosmetics and personal care products.

"There was no simple way for me to avoid cancer-causing ingredients in my skincare. Even if it's just a small amount, I'm entitled to know about it, so I built my own solution."

SkinNinja matches world leading expert evidence (including The International Agency for Research on Cancer and The World Allergy Organisation ), to over 200k ingredients, across 800k products. The UK's most comprehensive database (and growing).

We believe that health information should be a right, not a privilege. It should be transparent and honest – and available to everyone, for free.

The Founder, Jo Osborne thinks about that every time she buys a skincare product:

"Every time I spend money I am casting a vote for how I want companies to treat me. Right now, I am telling companies that it is okay for them to put a list of ingredients on the back of a product that I don't understand. It isn't."

And so SkinNinja was born.

How it works - simply download the app, scan a barcode and:

1. Discover the truth. The product is either free from or contains suspected or known health risks - green, amber, red

2. Learn what the science says. Drill down to individual ingredients - find out what the experts think

3. Switch to a healthier alternative product - using SkinNinja's proprietary technology

For the first time, a UK platform is exposing the health risks contained in our everyday products and putting the power back into consumers' hands.
Now, we all have access to transparent, unbiased health information and can make our own purchase decisions - for ourselves. Without the BS.
____________________________________________________________________________________

Editor's Notes
Jo grew up in Australia with an allergy to sunscreen. At 26 she was diagnosed with skin cancer.

Over the years, has had to manage acne, rosacea and a raft of other sensitivities to various products she's tried along the way. Jo knows from experience that the way
skincare is currently labeled, it's almost impossible to manage even one let alone multiple skin concerns.

By trade Jo is a lawyer. By passion, she's a an experienced entrepreneur with a successful exit to Google already under her belt with eyes set well and truly on disrupting the opaque, smoke & mirrors industry of health & wellness.

Jo has built an all star female team with a combined experience, ranging from Skype, Microsoft, Babbel, Nortel Networks and Nokia.

Not only that, SkinNinja includes a heavyweight advisor team namely Colin Gillespie, Mark Livingstone, Simon Morris & Gary Dannatt.

Coming soon:
- Vegan/Cruelty Free
- Full personalisation, only see health concerns that matter to you.
- Full product provider interface integration, allowing brands to truly own their inventory
- Many, many more features for 2018…

Quick Facts
- In 2017, the total UK Beauty & Personal Care market is expected to reach GBP 13.9bn
- 81% of consumers don't recognise the ingredients on the label but 68% believe it's important
- 60% Brits have/have had a skin disease

Reference and source materials are available on request.
____________________________________________________________________________________

SkinNinja.com ¦ Instagram.com/skinninjaapp ¦ Facebook.com/skinninjaapp ¦ Twitter.com/skinninjaapp

Press & Media enquiries: charlotte@sciapps.co.uk 07377 511673

Download the app on iTunes or Google Play

Statistical and evidential data are available on request
This press release was distributed by ResponseSource Press Release Wire on behalf of Sciapps in the following categories: Health, Women's Interest & Beauty, Consumer Technology, for more information visit https://pressreleasewire.responsesource.com/about.