Another Successful #MicroBizMatters Day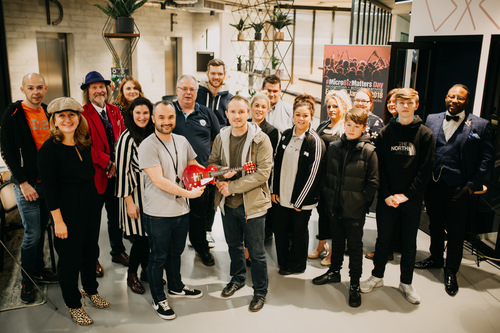 We encourage everyone to pledge to buy at least 25% of their goods and services from independently owned and run businesses.
Co-founders of #MicroBizMatters Tina Boden and Tony Robinson OBE are delighted by the support of the business community for the fourth annual social media extravaganza #MicroBizMatters Day (Friday 12 January 2018), an event that celebrates all of the valuable work that is achieved every day by micro businesses across the world.

Over the course of the day, over 50 business owners gave up their free time to provide their 'survive and thrive' tips for micro business owners through learning sessions broadcast live from the XYZ Work & Social Building in Manchester. Many are famous in their own right, including Chris Percival, Laura Bartlett, Kate Hardcastle, Penny Power OBE and for the fourth successive year, the founder of Pimlico Plumbers, Charlie Mullins OBE, who announced his intention to run for London Mayor in order to significantly benefit businesses and apprenticeships in the capital.

In addition to the advice given by this fantastic set of speakers, #MicroBizMatters Day also supports a number of initiatives that will help to fuel the growth of micro businesses. Co-founder Tina Boden gave an example with #Indie25ER. Tina said, "We encourage everyone to pledge to buy at least 25% of their goods and services from independently owned and run businesses. I manage 90% so 25% is certainly achievable by all."

The two co-founders of #MicroBizMatters also hope to encourage all business-to-business customers and clients to promise to #PayIn30Days in order to help improve cash flow for the smallest of businesses. This campaign is especially directed towards larger organisations that are contracted by the Government.

Tony Robinson OBE, co-founder of #MicroBizMatters Day said, "In the wake of Carillion's collapse, it remains as pertinent as ever to push for the Government not to buy from, contract with, license or fund any organisation that does not pay all of its bills within 30 days. Micro businesses cannot afford to complain about their biggest customers and Carillion had 'take it or leave it' 120-day terms which could cause many thousands of business owners to go to the wall or suffer life crippling debt. Unfortunately, in the UK big business bullying by unfair payment terms or delaying payment is commonplace. If all of the organisations that national, regional and local Government contract with, license or fund paid all of their suppliers within 30 days, not only would it help to reduce the crippling effect on small and micro businesses and their owners, it would also get tens of billions per annum circulating two to three times as fast in the economy."

Unlike many other free, global self-help enterprise initiatives, #MicroBizMatters Day is the only event backed by all major national and regional small and micro business membership bodies. In fact, representatives from the Forum of Private Business (FPB), the International Association of Bookkeepers (IAB), Enterprise Nation and Freelance Heroes even spoke on a panel about network benefits during the livestreaming event. Interviews with Ian Cass, the Managing Director of the FPB and Janet Jack, the Chief Executive of the IAB, can be found on YouTube, as well as many other interviews with #MicroBizMatters Day guests and sponsors.

Tina Boden and Tony Robinson OBE would like to thank their small army of Head Roadies, all business owners in their own right, who gave up their time totally free of charge in order to look after VIP guests and broadcast the day on social media. They would also like to thank all of the supporters of the #MicroBizMatters movement – including XYZ Works and Social, 123Reg, Web Lad, Famous Publicity, My Parcel Delivery, Larsen Howie, ClearBooks, Printed.com, Plan Digital, CheapAccounting.co.uk, Simon Cox Marketing Solutions and the John Cracknell Youth Enterprise Bank – for helping to bring this wonderful day to life.

Next year the fifth annual edition of #MicroBizMatters Day will be hosted in Hull at KCOM Craven Park on 11th January 2019, courtesy of Hull City Council and KCOM.

ENDS

Media information provided by Famous Publicity. For further information please contact Adam Betteridge at adam@famouspublicity.com or call 07548 755 766, Becky Lushey at becky@famouspublicity.com and Tina Fotherby at tina@famouspublicity.com or call 0333 344 2341.

About Tony Robinson OBE

Tony Robinson OBE is known as the Micro Business Champion. He is an author, speaker, business owner of thirty years and the co-founder of Enterprise Rockers CIC and #MicroBizMatters Day.

In 1996 Tony founded, and remains a co-owner of, the SFEDI Group including the Institute of Enterprise and Entrepreneurs. SFEDI is the Government recognised, national and international sector skills body for enterprise. SFEDI specialises in skills development, qualifications and learning for small, medium and micro businesses and those who support them.
In 2001 Tony was awarded an OBE for his services to small firms and training.

Tony has also received a Lifetime Achievement Award for Enterprise from the IAB in 2012. His latest of eight books is 'Loose Cannon', which is available on Amazon.
About Tina Boden

North Yorkshire-based Tina Boden is one of the UK's leading voices for micro business. By the age of 21 Tina was running her own business in partnership with her mother and has been running micro businesses ever since.

Through her rebranded business, The Tiny Troubleshooter, Tina shares over 25 years of her experience and helps others who are running micro businesses, charities or social enterprises keep their organisation on the right track. Tina ensures business owners develop and flourish through strategic implementation.

In 2012 Tony and Tina created a free, non-membership 'network of networks' to bring together micro enterprises and business owners to share their knowledge to other micro business owners. Enterprise Rockers CIC, #MicroBizMatters Day and @MicroBizMatters operates globally.

If you would like to know more information, please do not hesitate to get in touch.
This press release was distributed by ResponseSource Press Release Wire on behalf of MicroBizMattersDay in the following categories: Men's Interest, Women's Interest & Beauty, Business & Finance, Education & Human Resources, Media & Marketing, for more information visit https://pressreleasewire.responsesource.com/about.