Canadian Company Shakes Up Mobile Gaming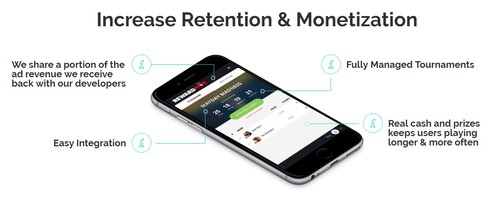 Using the cutting edge RewardMob platform, games developers can overcome the challenges within the mobile gaming industry
A number of highly respected games developers have partnered with trailblazing Canadian-based RewardMob Digital Inc. to revolutionise the eSports loyalty market and provide a new way for developers to reward players. The new, but rapidly growing RewardMob platform will support the mobile games developer community, and pave the way for new business models making use of blockchain technology.

RewardMob, based in Kelowna, near Vancouver, British Columbia organizes eSports gaming tournaments, where thousands of players globally participate in a wide variety of games on their mobile phones. Players earn loyalty rewards when they play games and participate in tournaments. These rewards consist of cash, real world prizes and RMOB cryptocurrency tokens. These real cash prizes keep players attracted and through the monetization of games, developers can receive benefits such as additional revenue.

Using the cutting edge RewardMob platform, games developers can overcome the challenges within the mobile gaming industry, such as attracting players and retaining their interest. Since the Beta release of RewardMob, session time for users has increased by 187% showing the capabilities of the platform and the potential of this type of innovation in the future.

Justin Graysmark, Founder of PlayPayGames said, "RewardMob has the potential to create an additional revenue stream for our games through their free-to-play tournaments. We are also excited to see the launch of cryptocurrency rewards in our titles and the increase in engagement that the platform will bring."

Michael 'Retz Retro' Ingram from Retz Gaming Days said, "I have been using the RewardMob platform as both a game player and a game developer. As a game player, this platform is amazing. It has allowed me to discover games that I may not have seen before, and as well as this, it has allowed me to win money and gift cards without paying a penny. From just two tournaments I won just under $100 and had fun doing it! RewardMob is a brilliant platform for game players and makers alike."

Chris Best from game development company Best Creations said, "I find RewardMob to be the best thing that ever happened to mobile gaming. Just the simple thought of playing a game and making money for something I enjoy was more than enough for me to install it.
"I have been working with RewardMob for about 6 months. I started as a user excited about the program and offered to make a game. After the launch of my game, I watched my users steadily increase over time."

Todd Koch, CEO at RewardMob said, "We are thrilled and delighted that we have a growing number of participants in each of our eSport tournaments. We hope that the gamers are loving the platform. We are only as good as the games developers we have on board."

Development of smartphones has led to a rapid rise in gameplay on mobile over the past ten years. Globally in 2017, mobile gaming grew to 2.7 billion active players and generated $43.6 billion in global revenue. Mobile gaming also represents the largest segment in gaming with 47% of all gaming revenue.

The RewardMob app can be downloaded through the iTunes App Store or Google Play. RewardMob will be hosting their first tournament ticket sale starting on Tuesday February 27, 2018. Visit https://ticketsale.rewardmob.com/ for more details on the ticket sale.

RewardMob Social Channels:
RewardMob Website: https://rewardmob.com
BitCoinTalk: https://bitcointalk.org/index.php?topic=2841331
Facebook: https://www.facebook.com/RewardMob/
Twitter: https://twitter.com/RewardMob
LinkedIn: https://www.linkedin.com/company/17945377/
YouTube: https://www.youtube.com/channel/UC8Fe8Lw4EtCNKL78dnCVm7Q?vie...
Google+: https://plus.google.com/b/103284141501355476545/
Instagram: https://www.instagram.com/RewardMob/
Telegram: https://t.me/rewardmobinc

ENDS

Additional images are available on request. Media information provided by Famous Publicity. For more information please contact Josh Balmer at josh@famouspublicity.com or Adam Betteridge at adam@famouspublicity.com or Ed Patience at ed@famouspublicity.com or call 03333 442 341.

About RewardMob
RewardMob is an innovative global mobile games technology platform that helps games developers with user acquisition, monetization and player retention.
The company is based in Kelowna, near Vancouver, British Columbia, Canada that is set to positively change the business model for games developers in a way which has never been seen before. The RewardMob platform is now circulating digital loyalty tokens to gamers globally known as RMOB.
This press release was distributed by ResponseSource Press Release Wire on behalf of RewardMob in the following categories: Men's Interest, Entertainment & Arts, Leisure & Hobbies, Women's Interest & Beauty, Consumer Technology, Business & Finance, Media & Marketing, Computing & Telecoms, for more information visit https://pressreleasewire.responsesource.com/about.