Do You Have The Voice of Wales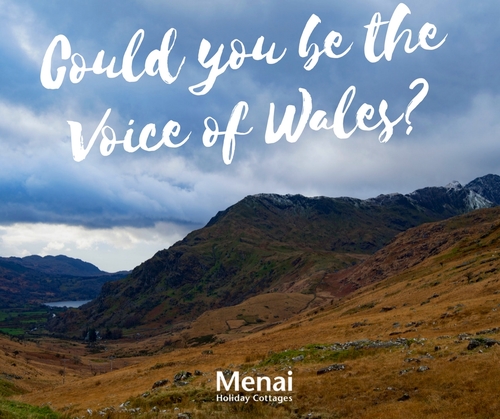 If Wales really was a person, would it be a man or a woman to represent the many landscapes that make Wales the place we love?
March 1st, 2018

Do You Have The Voice To Bring Wales To Life?
Welsh Holiday Company Launches Search on St. David's Day

www.menaiholidays.co.uk - a rather wonderful self-catering company located in North Wales, was recently sent a letter by a satisfied customer from London. The letter was written as if by Wales itself addressing its old friend London, highlighting the completely different lifestyles the two enjoy.

Menai Holidays were so impressed with the letter, they decided to turn it into a video, complete with a voice-over. But that's when their dilemma began.If Wales really was a person, would it be a man or a woman to represent the many landscapes that make Wales the place we love? And what sort of voice would it have? Would the voice of Wales sound like a crescendo of waterfalls or the whispering wind through Newborough forest? Would it be Richard Burton or Catherine Zeta-Jones?

Rather than choose an actor, Menai Holidays have decided to throw open the challenge to the UK and are asking people to send in a recording of their voice, if they think they could bring Wales to life. The voices will then be featured on social media for people to vote for.


If chosen, not only will their voice become immortalized as Wales, but they'll also win a three-night break in one of their cottages Bywthyn Nain. http://www.menaiholidays.co.uk/cottages/details/bwthyn_nain~...

Commenting on the challenge, Menai Holiday Cottages MD, William Matthews said:

"Personally, I think Wales would be a giant of a man with a deep earthy voice. However, other people on the team thought Wales would be female with a silky voice like a mermaid. We want the UK to decide how the country should sound, hence the reason for the competition."

Anyone wanting to take part should visit www.menaiholidays.co.uk/voice-of-wales-competition to find out how to enter or look for #VoiceOfWales on social media.

ENDS
For further information or images please email sara@madasamarchhare.com

EXCERPT FROM THE LETTER
An open letter from North Wales to London

Dear London,

I saw you in the news again yesterday. Some things never change. Forever in the limelight. Always frantic, manic, pushing yourself to the limits. Do you never get tired of it all?
Perhaps it isn't my place to say. Hustle and bustle isn't exactly my forte. Well, unless you count the morning mingle at Llanddwyn Island: sand and sea, mountain and mist, flora and fauna, the gulls and cormorants at full chorus with the woodland birds of Newborough forest. About as raucous as it gets up here.

ABOUT MENAI HOLIDAYS
From coastal breaks and mountain retreats to romantic hideaways and hidden havens, Menai Holidays has something for everyone, whether you're a couple looking for a weekend away or a family party of 20 wanting a huge place to escape. What's more, you won't find any of their 400 cottages on any other holiday site like Airbnb or Homeaway, as all their accommodation is exclusive to them.

North Wales has so much to offer - from miles of sandy beaches, a huge variety of terrain for walking as well as mountain climbing, heritage galore including some of the best castles in Britain plus great food and drink.
Menai Holidays also offer lots of luxury extras to make a stay with them truly memorable - whether it's arranging for a chef to come and cook, a masseuse to visit after a day's walking or just help to find something to do during a stay such as paddle boarding or yoga.

Find out more at www.menaiholidays.co.uk
This press release was distributed by ResponseSource Press Release Wire on behalf of Menai Holiday in the following categories: Entertainment & Arts, Leisure & Hobbies, Travel, for more information visit https://pressreleasewire.responsesource.com/about.