Pixar co-founder teleported live into a virtual classroom with students in Slough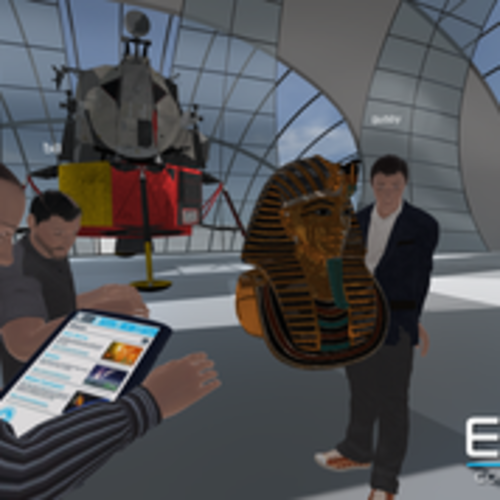 Game-changing ENGAGE platform beams in the best teachers from around the world.

25 April 2018: Today, the boring classroom lesson finally gets consigned to the history books when technology pioneers, Immersive VR Education, beam experts from California and Dubai teleported into a virtual classroom to teach students at Langley College near Slough, via a short trip to the moon.

Pixar co-founder, Loren Carpenter, will be 'beamed' in to the virtual reality (VR) classroom live from the US so that IT and gaming students at Langley College, part of the Windsor Forest Colleges Group, can learn from one of the founding fathers of computer programming for animation and film.

David Whelan, CEO of Immersive VR Education, says, "This is a pivotal moment in the history of learning. ENGAGE allows students to not only experience the environment they are learning about in virtual reality, but have the best teachers from around the globe join them in a virtual classroom."

The Pixar animation guru and Oscar winner will be joined by Dubai-based teacher and VR pioneer, Steve Bambury. Steve, from the Jumeirah English Speaking School (JESS Dubai), will take students on a VR journey from Slough to the moon and then to an ancient stone circle in Wiltshire so they can experience the transformative power of VR on a lesson.

The technology behind the lesson is ENGAGE from VR boundary breakers, Immersive VR Education. It is a free to use virtual reality teaching platform for schools, universities and businesses that allows them to create a virtual classroom to bring together teachers and learners from anywhere in the world.

The ENGAGE platform will be running on HTC Vive's VR technology and the recently launched HTC Vive Pro, allowing up to 10 students to simultaneously take part in the lesson. Virtual avatars will represent participants, enabling them to see and interact with one another and the teachers.

Pixar co-founder, Loren Carpenter said: "Through virtual reality, we can create a fabulous distributed classroom where anyone in the world with the internet can access a classroom and teaching. We can examine concepts that are difficult to recreate in other ways. Students can experience what it is like at the top of Everest or get inside a locomotive to see how it works up close."

As well as discussing his past work with Lucasfilm and Pixar, students at the event will also hear about some of Loren's boundary pushing work in the field of mind-matter interactions from the Institute of Noetic Sciences in California, where he is currently a visiting scholar.

Christian Long, the gaming teacher and champion of VR technology for the Windsor Forest Colleges Group, who created the event for his students by bringing together some of the leading lights in the global VR industry said, "It is said we only retain 30% of what we hear, but 90% of what we experience. It's why we can often remember our childhood holidays vividly, but not many of our school lessons. VR is an incredibly powerful tool for engaging students and helping them experience what they learn, so the lesson is never lost. When we can then add the best teachers from across the globe into the mix, the impact we can have on our pupils' ability to learn will be phenomenal."

Dave Haynes, director, Vive X Europe said, "HTC Vive technology is providing a fantastic opportunity to revolutionise approaches within the education sector, and make quality teaching more accessible and engaging. It's great to see Vive being used in a real-life classroom environment at the Windsor Forest Colleges Group, and we are thrilled to support the ENGAGE platform as organisations adopt Vive for use both in schools and for distance learning applications."

#classroomVR #ENGAGE #ARVRinEDU @vreducation @htcvive
www.vreducationholdings.com
@WindsorForestCG @JESSdigitalUAE @VARcational

Notes to the editor: • Event location: Langley College, part of the Windsor Forest Colleges Group • Students: students aged 16 plus on gaming and IT courses • Technology used: ENGAGE platform from Immersive VR Education with HTC Vive headsets • Sample content: Apollo 11 experience using ENGAGE: https://youtu.be/kVP2aN2JMgk • ENGAGE information – www.vreducationholdings.com • The Windsor Forest Colleges Group has made significant investment into technology, working with employers and businesses to ensure they are pioneers of VR technology in the education sector. The technology: ENGAGE The ENGAGE platform is a free to use social education and presentation platform. ENGAGE allows users to hold meetings, classes, private lessons and presentations with people from all around the world in a safe virtual multi-user environment. The University of Oxford in the UK has already created content within ENGAGE to train doctors in Africa in infant life saving techniques in an attempt to reduce infant mortality rates. Interviewees: • David Whelan: Founder and CEO of Immersive VR Education Holdings PLC. David has won many international awards for his work in virtual reality, including a Time Warner Future of Storytelling Award, Vision Award and Viveport Award for his work on Apollo 11 VR and the ENGAGE education platform. • Students: Several gaming students aged 16 and 17 from the Windsor Forest Colleges Group. • Teacher: Christian Long, gaming and IT teacher and champion for VR technology for the Windsor Forest Colleges Group • Steve Bambury: Head of Digital Learning and Innovation at Jumeirah English Speaking School (JESS Dubai), an education VR expert and winner of an Education Trendsetter 2018 award from EdDigest awards. • Loren Carpenter, Co-Founder, Pixar, United States The company: Immersive VR Education (http://www.vreducationholdings.com/index.asp) Immersive VR Education is an award-winning virtual/augmented reality software firm dedicated to advancing how educational and enterprise content is shared and consumed globally. Founded in Ireland in 2014 by husband and wife team David and Sandra Whelan, Immersive VR Education has global recognition for its award-winning Apollo 11 experience (https://youtu.be/kVP2aN2JMgk) and ENGAGE platform (https://youtu.be/QVu_YTnr-l0). The company was recently listed on both the Irish and London Stock Exchanges.

Media contacts: To arrange interviews, for further information or images, please contact Claire Bustin, Catherine Lane PR Tel: 07870 808 166. Email: claire@catherinelane.com Further images available upon request.
This press release was distributed by ResponseSource Press Release Wire on behalf of Catherine Lane PR in the following categories: Children & Teenagers, Education & Human Resources, Computing & Telecoms, for more information visit https://pressreleasewire.responsesource.com/about.