GBP700,000 Fund for Universities, FE Colleges and Business Schools Running Business Innovation Competitions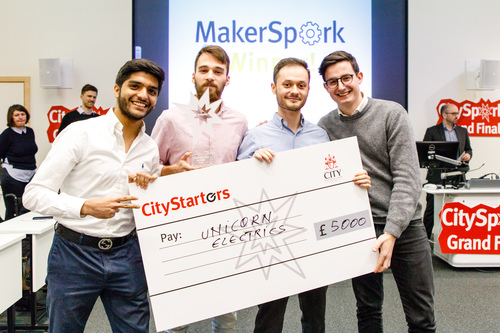 50 institutions can apply for a GBP3,000 grant to support their business competitions or engineering courses with a business component.
Sainsbury Management Fellows (SMF) has launched a GBP700,000 fund to help universities, further education colleges and business schools encourage more engineering students and postgraduates to get involved in business innovation. Called the Engineers in Business Prize Fund, over the next two years 50 institutions can apply for a GBP3,000 grant to support their business competitions or engineering courses with a business component.

SMF President, David Falzani said: "Inspiring innovation is just one reason for offering financial support for existing business education programmes. Research shows that introducing business education to young engineers makes them better engineers, makes them more employable and effective in the workplace, and it is better for the profession and for the UK economy. It does so by teaching students the process of finding solutions to real-life problems, as well as soft skills including leadership, teamwork, collaboration and negotiation which are essential for career progression and business success."

The Engineers in Business Prize Fund was piloted at the University of Nottingham and extended to three other universities – Bristol, Kingston and City, London. These universities have awarded Engineers in Business prizes to students who have created innovative concepts and products. These include an automated external defibrillator that requires no training, is lightweight and affordable; and an intelligent water management solution that uses the internet to decrease water bills and prevent damages caused by leaks.

Now, 50 FE/HE institutions and business schools can apply for the funding. Two universities that have already received Engineers in Business funding to support their innovation competitions explained the benefits:

University of Bristol: New Enterprise Competition:
Neil Coles, Assistant Director of Careers Service at the University of Bristol said: "At Bristol we have this year used the Sainsbury Management Fellow funding to enhance support for engineers through our existing New Enterprise Competition. The flexibility to filter through the existing competition makes it easy for us as educators to target the most enterprising engineers."

The University of Nottingham, Haydn Green Institute for Innovation and Entrepreneurship – Ingenuity Competition:
Being part of SMF Engineers in Business has offered us a targeted focus through our Ingenuity Innovation Event to get more engineers to look at how they think and work, as well as how they can create sustainable enterprises, solving global issues where they find them. However it is being part of the SMF network as a whole, that offers connections and insights that create huge added value to the universities innovation activity," said Steve Chapman, Head of the Ingenuity Lab and Ingenuity Event Director.

Details on the application criteria can be found on the SMF website. An application form can be obtained by contacting EngineersinBusiness@smf.org.uk.

Contact:
Althea Taylor-Salmon
Fortune PR
01992 551 335
07711 624 267
althea@fortunepr.co.uk
This press release was distributed by ResponseSource Press Release Wire on behalf of Fortune PR in the following categories: Business & Finance, Education & Human Resources, Manufacturing, Engineering & Energy, for more information visit https://pressreleasewire.responsesource.com/about.