New app enables employers to instantly locate staff in event of terror attack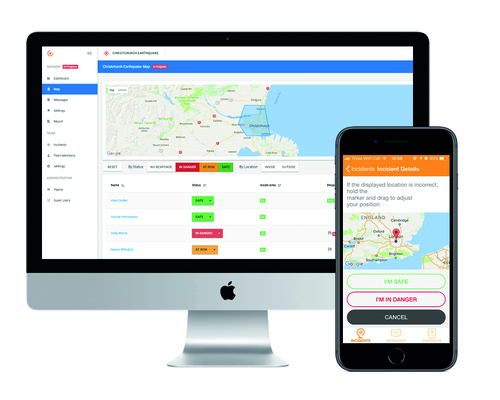 IncidentEye provides organisations with an effective way to instantly respond in the event of an emergency and monitor the wellbeing of their staff.
Safety app specialists StaySafe have launched IncidentEye, an app that allows companies to quickly locate and monitor the safety of their staff in the event of a terror attack or other emergency.

IncidentEye, which is compatible with both Android and iOS devices, is a smartphone app and cloud-based hub which allows an employer to rapidly locate and protect employees during an emergency.

The solution has been developed in response to the growing number of incidents, both man-made and natural, that are affecting businesses around the world.

"Recent years have seen a rise in terror attacks and active shooter incidents, whilst climate change experts predict that warmer temperatures and high tides will continue to increase the number of natural disasters occurring" comments Don Cameron, CEO, StaySafe.

"These events are unpredictable and can cause considerable panic and disruption, both to staff and business operations. IncidentEye provides organisations with an effective way to instantly respond in the event of an emergency and monitor the wellbeing of their staff. The app provides real-time information to instantly ascertain where employees are located, ringfence those in the area and communicates with them until everyone is accounted for, with minimal disruption to the rest of the workforce".

The app, which lies dormant on staff phones until an incident is triggered by their employer, uses location data to establish if any employees the in the danger zone and prompt them to check in safely. The app can then be used to communicate with affected staff, sharing up to date safety information and warning any near-by employees to avoid the area until the incident is resolved. Status information and communications are also tracked throughout and are saved as a report and audit trail.

Owen Loeffellechner, Chief Safety & Security Officer at Bank of New Zealand is one of the first clients to go live with the new app. "The safety and well-being of our people is paramount and so we are continuously looking at ways we can exercise our duty of care better" states Loeffellechner.

"As a business, we have a large national footprint consisting of many locations, including an active mobile workforce. The combination of these elements, industry related risks and a country that can be subjected to earthquakes means emergency communication is essential.

We are therefore very pleased to have adopted IncidentEye as our emergency communication service. We believe in times of an emergency this will contribute significantly to our capability to confirm the welfare status of our people and provide a timely response, or to proactively communicate about serious threats"
Contact details and more information about IncidentEye can be found on our website

-Ends-

Contact:
StaySafe:
Helen Down
helen.down@staysafeapp.com
0844 561 7233

About StaySafe
StaySafe specialise in helping companies to keep their employees safe. Our solutions include the leading lone worker safety and monitoring app StaySafe and incident management app IncidentEye. Established in 2012, StaySafe protects the lives of 10,000's of employees within major corporations and small business alike, across multiple industries in over five continents.

www.staysafeapp.com
@staysafe
This press release was distributed by ResponseSource Press Release Wire on behalf of StaySafe in the following categories: Travel, Education & Human Resources, Computing & Telecoms, for more information visit https://pressreleasewire.responsesource.com/about.