Historic Clock Exhibition Hosted at Bonhams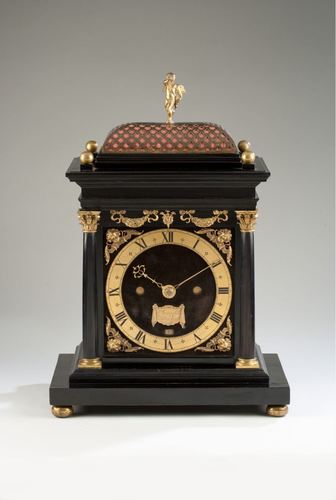 Clocks were the pinnacle of English fashion and featured expensive woods such as ebony and princeswood, leading the way in cabinet making
Two private clock collectors have collaborated to stage an outstanding exhibition of
early English clocks at the prestigious venue of Bonhams, New Bond Street, London.

The exhibition will also feature third party loans including contributions from the Science Museum, the Clockmakers' Company and the Collection of the 5th Lord Harris from Belmont House, amongst others.

What makes the exhibition particularly exciting is that many of the clocks are being displayed together, almost certainly for the first time ever.

Some of the earliest pendulum clocks presented will be three Ahasuerus Fromanteel box clocks, produced in London within the first few years of the pendulum clock being developed in 1656. These were designed originally to be wall hung with simple box cases and with the dials hinged to allow access to the movements.

Soon, however, London-made clocks developed rapidly as shown by a quartet of Fromanteel striking table clocks (c.1660-1665), which are housed in elaborate cases, all of similar construction and originally with gilt brass fish scale basket tops but with movements and dials with different specific features. These clocks will be displayed alongside each other to enable the similar and contrasting features to be readily seen.

Only five Samuel Knibb clocks are known to exist and delightfully, all five are to be exhibited. The pieces show clearly what a talented clockmaker Samuel Knibb was and also highlight his close association with the Fromanteel family workshops. This is most clearly seen in the two table clocks in cupola style cases one signed Samuel Knibb and the other by Ahasuerus Fromanteel but demonstrating a close association in their overall design and construction.

The show's curator, Richard Garnier explains, "In researching the exhibition - that displays the early development of the pendulum - I've discovered that, in England, clock case design and materials pre-dated cabinetmaking of the period. Clocks were the pinnacle of English fashion and featured expensive woods such as ebony and princeswood, leading the way in cabinet making. It seems that the common wisdom – that clock cases followed developments in the furniture trade – is wrong. It was in fact furniture that seems to have been influenced by clocks, as these new mechanical timepieces were the ultimate in designer technology and became leaders in the development of cabinetmaking."

The exhibition - which also includes watches and documents - explores five themes that analyse the story of clockmaking. Subject matter ranges from initial imprecise timekeeping through to the highly accurate timepieces of great mechanical complication, along with crown patronage and the luxury market. It also includes time-keeping pieces made for the newly emergent middle classes, showing the diffusion of aspirational goods to the middle classes during the post-Restoration economic boom.

Innovation took place during a highly volatile period of tumultuous change and political instability. Yet, each head of state (James I, Charles I, Protector Oliver Cromwell, then Charles II and James II, plus the later Stuart monarchs, William of Orange, Mary II and Queen Anne) expressed their elite status through patronage of the arts and sciences. This in turn, informed the culture of innovation which drove clockmakers to create increasingly interesting and ultimately, more accurate clocks.

Running from Monday September 3 to Friday September 14, the exhibition provides a fascinating and unique insight into the innovation and collaboration of the pioneering clock makers from 1600 to 1726. The work of Edward East, Thomas Tompion plus the clockmaking families Fromanteel and Knibb, is explored in detail, with over 100 long case and table clocks on display.

Dates: Monday September 3 – Friday September 14, 2018
Times: Weekdays 9:30 AM to 4:30 PM, Saturday and Sunday 11:00 AM to 3:00 PM.
Location: Bonhams, 101 New Bond Street, London, W1S 1SR

Admission: Free to enter. For further information please visit the website:

http://clockexhibition.org.uk/

ENDS

Dr John C Taylor OBE, one of the exhibition's contributors, will be available for interview, by prior appointment. High resolution images are available on request.

Media information provided by Famous Publicity. For more information please contact Hetty Smyth at hetty@famouspublicity.com or Tina Fotherby at tina@famouspublicity.com or call 0333 344 2341.
This press release was distributed by ResponseSource Press Release Wire on behalf of Innovation & Collaboration Clock Exhibition London in the following categories: Men's Interest, Entertainment & Arts, Leisure & Hobbies, Home & Garden, Women's Interest & Beauty, Education & Human Resources, Manufacturing, Engineering & Energy, for more information visit https://pressreleasewire.responsesource.com/about.