Wildflower Urban Biodiversity Project Makes the Grade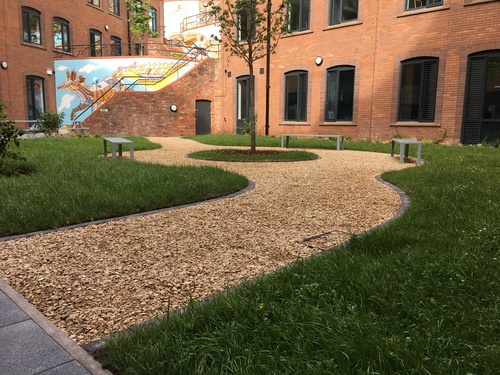 A focus on urban biodiversity is at the forefront of an ecologically friendly landscaping project that has recently been completed at Brunel House in Bristol.

Formally offices and now a new Unite Students property, Brunel House in Bristol will house 246 students who will enjoy a landscape that offers an urban habitat for insects, bats, swifts and other wildlife.

Key to the central landscaping design of this new development is the incorporation of a wildflower meadow, supplied by Wildflower Turf Ltd at the request of construction specialists the RG Group.

Following the RG Group's winning submission at the 2017 CIRIA BIG Biodiversity Challenge Awards, award sponsors Wildflower Turf Ltd were contacted by Sustainability Consultant Colorado Goldwyn with a view of utilising the RG Group's prize to enhance the Brunel House project.

As well as donating 200m² of Wildflower Turf Landscape Turf, the Hampshire-based wildflower experts also assisted the project with specialist consultancy, recommended and supplied additional turf to meet the project's requirements, and provided Accredited Partner training to the project team.

Colorado Goldwyn of EQ Consultancy said, "The combination of Wildflower Turf Landscape Turf and Species Rich Lawn Turf has pulled the landscaping scheme together beautifully and allowed for a flow of biodiversity throughout the differing levels of the landscape design."

The wildflower-led landscaping initiative has focussed on assisting rare invertebrates such as the rare Carrot Mining Bee and Small Blue Butterfly. Additionally, and in collaboration with the RSPB, a number of other recommended ecological initiatives were also defined and adopted as part of the landscaping design.

As well as providing an aesthetically pleasing landscape for the incoming student population, local wildlife habitats have been protected, with the project on track to receive an 'Excellent' BREEAM rating.

James Hewetson-Brown, Managing Director at Wildflower Turf Ltd said, "The ecological prosperity that a wildflower meadow can bring cannot be understated, and urban biodiversity projects such as this stretch widely to encompass both social and health benefits."

Hewetson-Brown continued, "It is anticipated that the local student population will benefit, not only from the beautifully landscaped areas that will promote well-being and social interaction, but by gaining a sense of responsibility as they become interested in, and involved with, the protection of local wildlife."
ENDS

Contact:
James Hewetson-Brown
Wildflower Turf, Ashe Warren Farm, Nr Overton, Hampshire RG25 3AW
Tel: 01256 771222
Email: wildflower@wildflowerturf.co.uk

Accompanying Images
https://www.dropbox.com/sh/gtt1kngxjbx4zo8/AACTWXeMxQ_N6qPKt...

Notes for Editors:
About Wildflower Turf Ltd
Wildflower Turf Ltd is recognised as the leading organisation in the UK for those seeking knowledge or products to develop wildflower spaces. The organisation is sponsoring the "Overall Winner" award at the 2018 CIRIA BIG Biodiversity Challenge.

Founded in 2003, Wildflower Turf Ltd pioneered a soil-less growing system which has transformed the reliability of establishing wildflower meadows. The company has a range of Wildflower Turf products to create and enhance a low maintenance, biodiverse and beautiful meadow.

Wildflower Turf Logo >
https://www.dropbox.com/s/ybrrppwakf5fmw2/WFT-Logo-R-Symbol-...

Website Details > http://www.wildflowerturf.co.uk

About CIRIA BIG Biodiversity Challenge
CIRIA is the construction industry research and information association, a neutral, independent and not-for-profit body that links organisations with common interests and facilitate a range of collaborative activities that help improve the construction industry.

The BIG Biodiversity Challenge to 'do one thing' invites the construction industry to add at least one new biodiversity enhancement to construction sites, developments or existing buildings.

About RG Group
RG Group are construction specialists primarily focused on the Living Space, Retail and Commercial sectors. They service the whole of the UK and have offices in Kent, London and Doncaster. RG are an independently owned company that has grown steadily since forming in 1989. Through successful project delivery and continued customer focus they have enjoyed over 28 successful years.

About EQ Consultancy
EQ was established in 2014 by two business professionals who have been at the forefront of sustainability development for the past decade. Our consultants have over 24 years combined experience within the fast-paced construction and waste industries. Drawing on experience from both the public and private sectors to deliver outstanding results within all areas of the environmental arena. EQ consultants hold a range of qualifications including environmental science degree, BREEAM Assessors, IEMA Environmental Auditing and BSI Management Training.
Based in Essex we operate across the UK offering a wide range of services across all business sectors.
This press release was distributed by ResponseSource Press Release Wire on behalf of Wildflower Turf Ltd in the following categories: Health, Home & Garden, Environment & Nature, Education & Human Resources, Farming & Animals, Construction & Property, for more information visit https://pressreleasewire.responsesource.com/about.