ADOPT A DARTMOOR PONY FOR CHRISTMAS!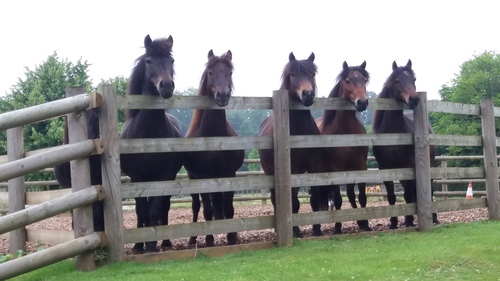 AND HELP TO SAVE THE DARTMOOR PONY ON DARTMOOR

It's the perfect Christmas present! Adopt a Dartmoor pony – and follow its activities all year round!

The Dartmoor pony is now on the Rare Breeds Survival Trust's 'Endangered' List. To help fund its work to ensure a future for the traditional native Dartmoor pony bred on the Moor, the Dartmoor Pony Heritage Trust (DPHT) now offers a "Dartmoor Pony Adoption Gift Pack".

The Adoption Pack includes a beautiful line drawing, photos, newsletter and an adoption certificate. Adopters receive three newsletters each year, with news about 'their' ponies as well as the Charity's activities to support the pony keepers (breeders) and to promote the ponies' vital role in improving the biodiversity and management of the moor. The cost is GBP20 per year for UK residents: GBP25 for those who live abroad

Adopting a Dartmoor Pony is a gift suitable for anyone, of any age, who loves horses and ponies. By buying an Adoption, you will be funding the DPHT's training of ponies so that they have a greater value and are more suitable for domestic and conservation grazing homes than coming straight off the Moor as wild, untouched animals.



Page 2

ADOPT A PONY FOR CHRISTMAS!

Ponies available for adoption are George, Charlie, Smartie and Rolo; they live at the Dartmoor Pony Heritage Trust Centre, at Parke, Bovey Tracey in Devon.

Visitors are welcome on Event Days (see our website www.dpht..co.uk) and by special arrangement, to groom and handle the ponies, find out all about them, follow their interesting lives and discover how important they are to the Dartmoor landscape.

The DPHT is also well known for its Equine Assisted Learning programmes for students of all ages and abilities, called 'Ponies Inspiring People' (PIP), using our own Dartmoor ponies – including George, Charlie, Smartie and Rolo. The 'PIP' ponies demonstrate just how well tempered, adaptable and gentle Dartmoors are as family ponies, for riding, driving and conservation grazing.

Single-coloured with long manes and tails, Dartmoor ponies still run semi-wild on Dartmoor, but their numbers are in serious decline. Our charity's aim is to ensure the retention of the native Dartmoor pony gene pool and to preserve this iconic British native pony on the Moor, for future generations to enjoy.


If you are interested in adopting a pony, or wish to make a donation, or would like to find out more about our work, please look up our website www.dpht.co.uk or phone 01626 833234


Registered Charity No.1109196

Contact: Clare Stanton on cgs222@btinternet.com Or phone 07885 699802
This press release was distributed by ResponseSource Press Release Wire on behalf of Dartmoor Pony Heritage Trust in the following categories: Children & Teenagers, Men's Interest, Entertainment & Arts, Leisure & Hobbies, Home & Garden, Women's Interest & Beauty, Environment & Nature, Media & Marketing, Farming & Animals, Public Sector, Third Sector & Legal, for more information visit https://pressreleasewire.responsesource.com/about.