National Picnic Week reveals its 2019 winners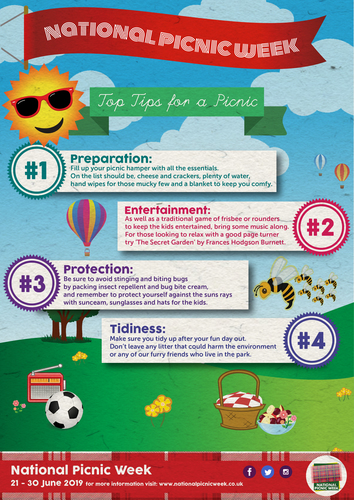 • National Picnic Week aims to cultivate pride in the local area
• Winner and runner-up announced for each region
• Hampstead Heath and Downhill Demesne & Hezlett House have won for the second year running

We're midway through National Picnic Week 21 – 30 June as the week aims to encourage Brits up and down the nation to dust off their old blanket and get back to nature by dining alfresco this week!

The winners, by region, are:

Scotland:
Winner: Yellowcraig Beach
Found just east of Edinburgh and on the North Sea coast, Yellowcraig Beach hosts an unusual mixture of coastal beauty mixed with forestry that's reminiscent of a movie set. So much so, Yellowcraig Beach was reportedly the inspiration for Robert Louis Stevenson's Treasure Island with an unspoiled cove, rock pools, evergreen greenery, and sandy beaches.

Runner-up: Loch an Eilein
Sheltered by ancient pine trees with fantastic views, Loch an Eilein is a fantastic cultural hub of wildlife and forestry. Situated by beautiful sheets of freshwater lakes in the Scottish Highlands, you can walk across this untouched paradise in two hours.

Wales:
Winner: St David's Head
If you have the pleasure of visiting the west coast of Wales you will find spectacular views and coastal wildlife in St David's Head, our exclusive vote for Wales' number one picnicking area. While St David's Head is a lush picnicking spot, it also hosts a number of ancient monuments going back to 3000 BC including Coetan Arthur's burial chamber.

Runner-up: Margam Country Park
One of the oldest sites on this list, Margam Country Park boasts a rich 2,500-year-old history with 1,000 acres of parkland. Surrounded by beautiful trees, shrubs, flowers, and lakes that have been enjoyed since the medieval times - Margam Country Park along with its castle is certainly a spectacular sight. With well-equipped playgrounds, Go Ape! Adventures and Hollywood-style greenery begging to be sat on, you will never be short of things to do.

North West:
Winner: Catbells
Unsurprisingly, the Lake District hosts another picnic hotspot with Catbells being the newest addition to the list. The steadfast 3.5 mile walk up Catbells Hill will leave picnic enthusiasts wishing they could stay for longer with phenomenal views over Derwent Water and Keswick.

Runner-up: Saint Herbert's Island
Last year's winner Saint Herbert's Island is one of the four islands that make up Derwent Water, with Saint Herbert's Island being the largest covering between four and five acres. As the name suggests, the island is named after the saint who reportedly brought Christianity to the area in the 7th century which is still a popular destination for religious pilgrimages.

North East:
Winner: Rumbling Kern
One of the North East's biggest hidden gems – Rumbling Kern has a deep-rooted history with whiskey smugglers carrying their contraband up and down the beach. Nowadays Rumbling Kern is better known as one of the most exclusive unhidden gems on the northeast coastline.

Runner-up: Gibside
Located a few miles from Newcastle-on-Tyne, Gibside really is a step back into history featuring a fantastic landscape along with regular outdoor theatre performances nestled in the 600-acre estate. For the historians and creative types, this is an amazing place to really let your mind wander.

West Midlands:
Winner: The Wrekin
You will have certainly earned the contents of your backpack picnic once you have climbed the three and a half miles to the summit of The Wrekin. This 407-meter high mound is on the edge of the Shropshire Hills Area of Outstanding Natural Beauty and allows you to enjoy the view of 17 counties on a clear day.

Runner-up: Ryton Pools
100 acres of winding paths, ancient woodland and natural pools, Ryton has all you need for a day out with the family. Find your own way and explore the rich natural habitats or take an audio guide to discover what makes this place so special.

East Midlands:
Winner: Wollaton Park
Wollaton Park is situated around the beautiful mansion, Wollaton Hall. Known for the herds of free-roaming red and fallow deer that roam the beautiful landscape, Wollaton Park in Nottingham is the perfect place to roll out a rug and stuff your face with sandwiches.

Runner-up: Whisby Nature Park
This scenic area is situated in Lincoln. The quarry pits here once barren, are now filled with water, attracting a variety of wildlife. The nature park is free to visit and has a variety of fantastic outdoor activities for children.

Yorkshire:
Winner: Fountains Abbey
Containing an abbey created by 12th-century Cistercian monks and a medieval deer park home to a vast array of Yorkshire wildlife, Fountains Abbey has found itself winning another picnic destination award. While it's a great spot to get the picnic rugs out, there is also a range of activities to keep everyone happy from exploring the large estate to bird spotting.

Runner-up: Dalby Forest
Also known as 'The Great Yorkshire Forest', Dalby is well known for having 8,000 acres of majestic woodland you can explore, enjoy and have a picnic. Located in the East of England and on the southern slopes of the North York Moors National Park, this picnic spot is a great area to go on an adventure.

Northern Ireland:
Winner: Downhill Demesne & Hezlett House
Two-time winner Downhill Demesne & Hezlett House is the perfect place for the ultimate serene picnic. Here you can explore beautiful gardens that lead you to the 17th century thatched cottage which – as one of the oldest standing buildings in Northern Ireland – is steeped in history. If all this isn't enough for you, how about embarking on an adventure through the endless woodland?

Runner-up: Carrick-a-Rede
With beautiful rocky paths that line windswept grasslands, Carrick-a-Rede is our runner up for Northern Ireland. Surrounded by ancient caverns and crystal green water, the only way to get on the island is to cross a bridge that's certainly not for the faint-hearted.

South West:
Winner: Bedruthan Steps Beach
Ranked as one of the prettiest beaches across the UK, Bedruthan Steps Beach's popular, but the unspoiled landscape is only accessible at low tide and that's after you get down a steep set of steps cut into the cliff by smugglers storing their bounty in this cove.

Runner-up: Golden Cap
Described as "like hiking a rollercoaster track" – the long walk across the South West Coast Path is rewarded at the Golden Cap with views unearthing the Jurassic Coast at the peak. If you're lucky enough to experience these views with a picnic, you will be kept company by the wild rabbits who roam these parts.


South East:
Winner: Brockhill Country Park
Once part of a game estate that serviced Saltwood Castle in Norman times, Brockhill Country Park is now a popular public park on the outskirts of Hythe, Kent. It has a central lake, open grassland and meadows along with a bunch of facilities that make for an easy afternoon out with a group.

Runner-up: Westgate Gardens
When visiting Canterbury, there is plenty of history to take in, but one place you cannot afford to miss is Westgate Gardens. Boasting four equally special and relaxing areas, peaceful walks and woodland areas make the possibilities for picnics almost endless.

London:
Winner: Hampstead Heath
There's a reason for why Hampstead Heath is always one of the most voted spots every year hosting hundreds and thousands of Londoners looking to escape the bustling London streets.
It's easy to get lost in what feels like a lush urban countryside but taking a visit to Parliament Hill can really take your breath away with a view of London's skyline nestled between leafy green trees.

Runner up: Furnival Gardens
A popular but petite destination just a walk away from London hotspot Hammersmith, Furnival Gardens is a great grassy space for picnickers to relax by the Thames. If you happen to visit at the right time during the summer, you'll be able to catch a great view of the annual Oxford Cambridge Boat Race as Furnival Gardens signals the midway point.

East Anglia:
Winner: Sheringham Park
With nearly a thousand acres of parkland to explore across the north Norfolk coast, you can thank landscaping extraordinaire Humphry Repton for commissioning arguably the most astonishing example of floral beauty in 1812. Credited as being a peaceful and delightful area of tranquillity, Sheringham Park boasts riveting parkland, followed by Repton's signature style of flower gardens and botanical influences.

Runner up: Rendlesham
Rendlesham Forest is 1,500 hectares of mixed and vibrant woodland boasting an extravagant amount of greenery that nature enthusiasts across the country travel to see. With a number of natural walking paths, Rendlesham Forest was also subject to an air of mystery as unexplained lights in the Forest's RAF Woodbridge site reportedly led to UFO landings.


Adam Cox, founder of National Picnic Week says:
"While we've had unpredictable weather this summer, we've found there's already been more picnic's so far this year than we normally have. With a hot summer predicted we're expecting more picnic's in 2019 than ever before. To make the most of your picnic this we're encouraging the nation to have spontaneous picnics. It's so quick to grab a blanket and a selection of foods and just enjoy eating outdoors. It doesn't have to be a well-planned activity, you can even have a quick picnic in your lunch break."

"I'd like to congratulate the winners and runner's up and all the nominees that made it on to the shortlist. The UK has some fantastic picnic spots and a picnic can turn a day out into memories that last forever."

-ENDS-
For additional comment and for imagery to accompany this release please contact Thomas@kincomms.com, Amy@kincomms.com or call 0203 958 7175

Notes to Editors:
• The winners and runners up were subject to the online poll conducted on the National Picnic Week's website with inspiration from Ali Ray's 'The Picnic Book' and AA Publishing.
• National Picnic Week takes place from 21 June to 30 June and deliberately covers two weekends.
• This is the 14th year of National Picnic Week.
• Facebook: https://www.facebook.com/NationalPicnicWeek/
• Twitter: https://twitter.com/PicnicWeek
• Adam Cox, the founder of National Picnic Week, is available for comment or interviews and will be available on ISDN for radio interviews throughout the week.
This press release was distributed by ResponseSource Press Release Wire on behalf of Kin Communications2 in the following categories: Leisure & Hobbies, Environment & Nature, Food & Drink, for more information visit https://pressreleasewire.responsesource.com/about.