Phobia Guru predicts Pennywise to cause Misery for 8 million Clown Phobics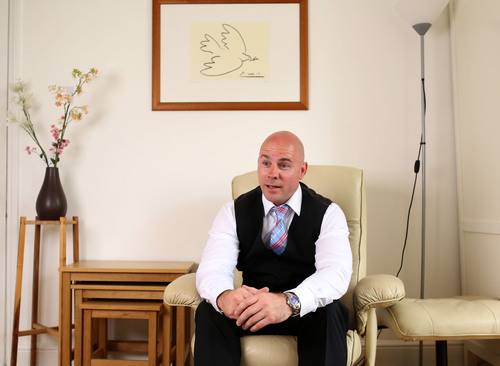 • An estimated 7.92 million Brits have coulrophobia or better known as a 'phobia of clowns'
• A surge of hypnotherapy enquiries seeking help from the Phobia Guru occurred after the release of IT in 2017
• The Phobia Guru is offering those living with coulrophobia a free audio download to help overcome these fears


The anticipated adaptation of Stephen King's bestselling novel IT unveils its cinematic sequel this week and its main protagonist 'Pennywise' who appears as a killer clown will be causing anxiety for 7.92 million1 says leading Harley Street Hypnotherapist Adam Cox.

An estimated 12% of people in the UK suffer from coulrophobia, a serious phobia of clowns that tends to be rooted within the media or can be formed from bad experiences associated with clowns. Popular events such as the release of IT or the rise of 'evil clown' sightings in 2016 have helped illicit bad thoughts surrounding clowns to the extent that IT's creator Stephen King regarded the emergence of evil clowns as "a kind of low-level hysteria"2.

While IT 2 may be a simple horror film for casual viewers, many viewers or people who actively avoid the film will be shuddering in fear at the turmoil the sequel cause.

Adam Cox, also known as the 'Phobia Guru' experienced a surge of people seeking help after the release of IT in 2017, and is expecting more due to the popularity of the film's sequel.

As Cox explains, "Clowns are scary for two reasons. Firstly they are unnatural, we know they are human but they don't look like normal humans. The face paint hides their facial expressions so we can't read their emotions like normal people. Also, their movements are exaggerated and unnatural and people build rapport based on similarity, clowns are by definition very different so this creates a barrier against connection.

"Most phobias are created when there is a sensitising event. A child seeing a stranger dressed up in a strange costume with unknown motives is the likely trigger for the phobia in most people but culturally there is a general feeling that clowns are creepy which creates the association of them being something for fear."

Cox continued, "For most people with coulrophobia they can simply choose to avoid places such as the circus where clowns may be seen. With 'It' being such a popular film those that are afraid of clowns will see more images of clowns than normal which can cause unnecessary anxiety.

"Just as the film Jaws was responsible for many people developing galeophobia the original 1990 mini-series of 'It', featuring Tim Curry as Pennywise, was responsible for many people developing coulrophobia. It's my belief that the popularity of the latest version of 'It' will see Pennywise create a new generation with a fear of clowns."

For people who wouldn't consider themselves to be suffering from coulrophobia, Cox notes that you can still develop the phobia in later life and there tends to be 10 signals you should be aware of.

Symptoms can include:
1. Rapid heart rate
2. Dizziness
3. Screaming
4. Hysteria
5. Hyperventilating
6. Feeling of choking
7. Fainting
8. Trembling and/or sweating
9. Crying
10. Nausea or other gastrointestinal distress

To reassure those living with clown phobias, Cox notes it's important to remember clowns aren't real and they're playing a character.

"With clown phobias specifically the key is to acknowledge that there is a real person behind the mask and they often they are very shy," says Cox. "Once the phobic connects with the shy and vulnerable person behind the clown costume then they feel sorry or even pity for the person rather than fear."

To help people prepare for a potential phobia reaction or overcome these fears, Adam has created a hypnosis audio download specifically to help that is available on his Phobia Guru website.

To get the free download you'll need to visit https://www.phobiaguru.com/fear-of-clowns-coulrophobia.html

Notes to Editors:
Adam Cox is available for broadcast interviews, is available for radio ISDN interviews and can provide comment upon request.

Adam Cox is a fully insured clinical hypnotherapist that qualified with the LCCH, is a member of the BSCH (British Society of Clinical Hypnotherapists) and listed on the GHR (General Hypnotherapist Register). Adam has worked with celebrities and CEO's and is often featured in the UK media.

Contact Tom at Kin Communications on thomas@kincomms.com or 020 3958 7085 for more information.

Sources:
1. http://www.independent.co.uk/news/uk/home-news/are-you-brave...
2. https://bangordailynews.com/2016/09/08/news/state/please-don...
This press release was distributed by ResponseSource Press Release Wire on behalf of Kin Communications2 in the following categories: Entertainment & Arts, Health, for more information visit https://pressreleasewire.responsesource.com/about.