First Pop-Up Experience for Rubik's Cube in London's Covent Garden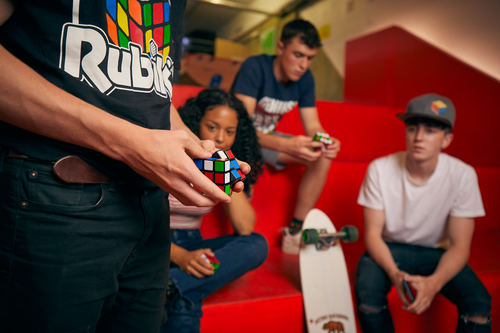 The event is all about engagement and visitors can expect to become totally immersed in the multi-faceted world of Rubik's
Rubik's Brand Ltd, the London-based company that owns the rights to the Rubik's Cube - the world's most popular toy - is hosting its first ever Pop-Up Experience at 9-11 Short's Gardens, Seven Dials, Covent Garden, London WC2H 9AT, on Tuesday October 1st and Wednesday October 2nd 2019.

The brand is creating a truly immersive experience for Rubik's Cube enthusiasts in advance of the 40th anniversary of the cube becoming toy of the year and taking the world by storm.

Since the Rubik's Cube's launch in 1980, an estimated 450 million Rubik's cubes have been sold globally. It has become one of the most instantly recognised symbols of fun, aptitude and creative endeavour due to its iconic, colourful multidimensional design that continues to appeal to people of all ages and cultures.

The Rubik's Cube has captured the imagination of global superstars such as actor Will Smith, singer-songwriter Justin Bieber and cyclist, Mark Cavendish.

The new interactive pop-up experience will feature many exciting activities, demonstrating the creative impact of the intriguing cube. A mosaic of HRH Queen Elizabeth II will be created using 1,800 limited edition Rubik's cubes.

Designed by Norwegian cube artist, @Cubearting, the artwork will be assembled with the help of visitors, set to break the current Guinness World Record for the most individuals contributing to a single Rubik's Cube mosaic. The current record has 293 participants which the Rubik's Brand plans to smash.

The UK speedcubing champion, George Scholey, along with other cubers, will be in attendance to teach novices how to crack the cube's code.

The magician, Taran Harvey-Chadwick, who is a regular performer at the Magic Palace, will be present to perform spellbinding close-up Rubik's Cube tricks. There will even be face-painters from Glamour Van to add a touch of cubic-style tribal colour.

As the design of black cabs is an iconic element of London's landscape, two taxis wrapped with Rubik's Cube designs will be used as mobile venues for the first ever 'Carpool Cubeioke'. Guests will learn the skills of solving a Rubik's Cube in a liveried cab while being chauffeured past the architectural landmarks of London.

CEO of Rubik's Brand Ltd, Christoph Bettin said, "This pop-up experience is a superb way to showcase the amazing development of the Rubik's Cube over the last 40 years and pave our way to the next four decades. The brand captured the zeitgeist of the 1980's and its popularity has endured, with its fanbase growing year by year.

"We will be unveiling new, exciting toys and collaborations to stimulate and entertain cubers of all ages. The event is all about engagement and visitors can expect to become totally immersed in the multi-faceted world of Rubik's that is colourful and sensational with unexpected twists and turns in honour of the Cube's inventive genius. It's a truly omnipresent toy that people hold in great affection."

Rubik's 2020 Vision

Next year, the 40th anniversary will see the launch of a range of interactive events, new toys and merchandising, all moving the Rubik's Cube beyond a toy brand to a true lifestyle brand. The latest high raft of profile licensing partnerships with major international brands and publishers will also occur.

The brand will continue to appreciate the serendipity that has resulted in the Rubik's Cube being celebrated as an iconic toy with a global fanbase, loved by Hollywood celebrities, sports stars, masters of the music industry and speedcubers worldwide, who have been keen to show their skill in solving the spellbinding toy. Many celebrity fans enjoy moments of mindfulness with a Rubik's Cube within their fast-paced lives.

Rubik's Cube Pop-Up Experience, 9-11 Short's Gardens, Seven Dials, Covent Garden, London WC2H 9AT. The event will be open to the public on Tuesday October 1st, 2019 from 10:00AM to 9:00PM and Wednesday October 2nd between 10:00AM and 7:00PM. Admission is free.

For further information about Rubik's please visit the brand's website https://www.rubiks.com/, Twitter https://twitter.com/Rubiks_Official, YouTube Channel https://www.youtube.com/user/RubiksTV or Instagram https://www.instagram.com/rubiks_official/.

ENDS

High resolution images available on request. Rubik's brand CEO, Christoph Bettin is available for interview.

For further information please contact Mary-Jane Rose at mary-jane@famouspublicity.com, Steven Hanlon at steven@famouspublicity.com or Tina Fotherby at tina@famouspublicity.com, on + 44 (0)333 344 2341 or mobile: +44 (0)7703 409 622.

Rubik's Brand Ltd controls and administers all the international rights in the RUBIK trademarks and in the overall image of the RUBIK'S CUBE®, the cube design and logo.

About Rubik's Brand Ltd

What started out in 1974 as an object created by Professor Ernõ Rubik to teach his architectural students has evolved into the world's most successful toy, perceived globally as an art form and the ultimate symbol of intelligence and problem solving. The 'Magic Cube' was demonstrated in Nuremberg and spotted by the toy specialist Tom Kremer whose vision was to share the amazing toy with the world.

Within the USA, You can Do the Rubik's Cube program places cubes into the hands of 800K students annually, helping them learn critical STEM and STEAM concepts. Now, 40 years after its international launch, the Rubik's Cube has become a global consumer brand, merchandising and licensing company that has always stayed close to its supporters. The Rubik's Cube is a highly engineered toy, that requires no additional power, just imagination and skill. The rationale used to solve a Rubik's Clube can create a blueprint for solving other problems in the future.


This press release was distributed by ResponseSource Press Release Wire on behalf of Rubik's Cube in the following categories: Children & Teenagers, Men's Interest, Entertainment & Arts, Leisure & Hobbies, Women's Interest & Beauty, Consumer Technology, Business & Finance, Media & Marketing, Retail & Fashion, for more information visit https://pressreleasewire.responsesource.com/about.