The Voice launches podcasts during Black History Month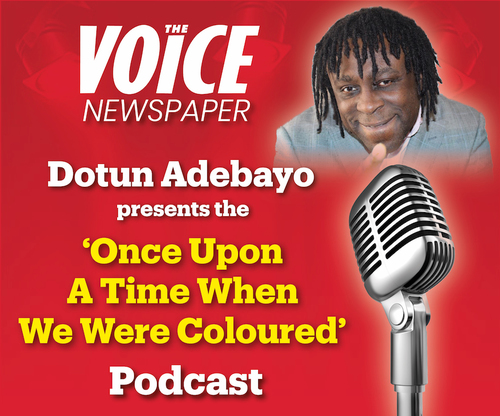 FOLLOWING THE launch of The Voice Newspaper's new monthly edition, the publication has announced plans to launch their own podcast series, starting with a podcast hosted by Dotun Adebayo entitled β€˜Once Upon A Time When We Were Coloured'.

The podcast presented by the acclaimed journalist will launch Wednesday 2 October on Soundcloud and The Voice Online, and will cover a range of subjects whilst exploring life for black Britons in the UK from the past, present and hopes for the future.

Speaking ahead of the launch, Adebayo said: β€œWe can speak for England. We know that. We've always known that, yet once upon a time when we were β€˜coloured' England didn't want people of colour to speak for it.

β€œWith the new monthly edition of The Voice and the new website, you can now see and hear some of our greatest critical thinkers discussing the hottest topics of today on my brand new weekly podcast Once Upon A Time When We Were Coloured. Expect the unexpected."

The newspaper also plan to launch their own β€˜Black History NOW' podcast which aims to highlight key figures in black culture who are making history now.

Paula Dyke, Senior Manager, Corporate Affairs said: "We are delighted to launch our new podcast series to share perspectives on a range of topics that are important to our readers.
"As Britain's only black national newspaper, we will use our platforms to campaign on issues that make a difference - and our podcast series is an important channel to ensure we can do this effectively''.

The Dotun Adebayo Podcast launches Wednesday 2 October.

The Voice Black History NO Podcast to launch at a later date.

Visit www.voice-online.co.uk for more information or contact leah.sinclair@thevoicemediagroup.co.uk.
This press release was distributed by ResponseSource Press Release Wire on behalf of The Voice Newspaper in the following categories: Entertainment & Arts, Media & Marketing, for more information visit https://pressreleasewire.responsesource.com/about.