Indik8a launches innovative safety signalling system for cyclists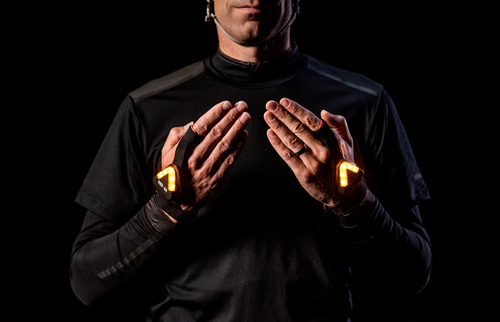 Indicators for cyclists' hands improves visibility and protection


LONDON, 30 October 2019 - Indik8a, an innovative new safety signalling system for cyclists, has launched today and is available to buy now. Indik8a introduces high visibility when indicating on a bicycle, providing another level of protection for cyclists in low level light.

Indik8a can be worn on a bare hand or over a glove and features an illuminated directional arrow that is activated by a switch on each hand. It is aimed at cyclists of all ages, from commuters through to parents who want their children to be more visible when cycling. There are two sizes, both of which are adjustable to fit the majority of adult and children's hands.

Most cyclists riding at night wear some level of reflective clothing and use good lights on their bike. Indik8a understands that cyclists can feel most vulnerable when changing direction, as it often puts them into the path of a car trying to get around them. Although some gloves have reflective elements, these often don't show up when a cyclist signals, particularly compared to the brightness of rear lights and any oncoming traffic headlights.

Indik8a was created to remedy this problem and to make sure that when a cyclist is indicating, their intentions are unmissable.

"Indik8a offers a significant improvement in safety while riding a bike, giving cyclists greater control of their personal safety," commented Douglas Rushbrooke, INDIK8A's CEO. "As winter approaches, being safe and seen in the mornings and evenings is a top priority for those who rely on their bikes to get them to and from school or work every day."

The product has been designed and developed over a number of years, and nearly didn't come to production. Originally the brainchild of qualified pilot Alistair Malcolm, the project fell to his wife Evelyn in 2016 when Alistair sadly passed away. The team now consists of Evelyn, Founder Director; Douglas Rushbrooke, CEO; and Simon Rushbrooke, Head of Design.

Together they have brought their combined entrepreneurial spirit and technical expertise to create a product that brings truly advanced safety to the modern cyclist. From children to adults, being seen by vehicles behind will give cyclists peace of mind on busy, car-congested roads, and may even save lives.

Adult Indik8as are available to buy now from www.indik8a.com and retail at £35 including postage. Children's versions will be available shortly.

- Ends -

For review products, high res images or more information, please get in touch with Kate Gordon: kate@brightsparkpr.co.uk or 07980 921961.

About Indik8a

Indik8a is an innovative new safety signalling system for cyclists, introducing high visibility when indicating on a bicycle and raising the level of safety while cycling.

Indik8a is the creation of Evelyn Malcolm, Douglas Rushbrooke and Simon Rushbrooke. The original Indik8a design was the brainchild of Evelyn's husband, Alistair Malcolm, who died of cancer in 2016. Douglas and Evelyn continued to progress the product's development and in 2018, Simon Rushbrooke, joined the team as Head of Design.

Indik8a is currently only available to purchase online at www.indik8a.com.
This press release was distributed by ResponseSource Press Release Wire on behalf of Indik8a in the following categories: Men's Interest, Leisure & Hobbies, Consumer Technology, for more information visit https://pressreleasewire.responsesource.com/about.