Diversity & Inclusion Speaker, Trainer & Activist Ali Hannon Joins Citrus Ornge's Advisory Board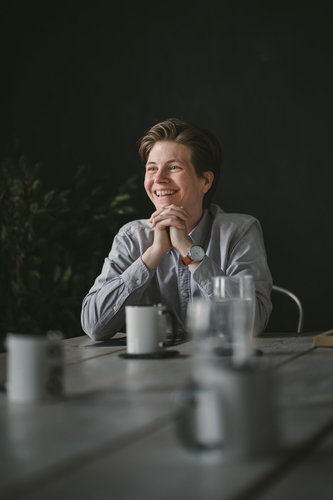 Citrus Ornge reveals its newest board member as part of their initiative to improve their diversity & inclusion across the company's internal and external strategy plan.

In November 2021, Citrus Ornge announced the first of their brand-new, business-led Q&A series 'Answering the Difficult Questions' with Ali Hannon, Brighton-based
Diversity and Inclusion speaker, trainer and activist. The first of their online series 'Addiction and Mental Health in the workplace' takes place on Thursday 9th
December, 12:00-13:30. Tickets are FREE, you just need to register here by 5pm, Wednesday 8th December.

Ali Hannon (they/them), will be responsible for advising and guiding the business on issues of diversity, including using its voice externally and helping to maintain progress toward becoming a more inclusive organisation.

Their background spans across the last decade, working with some well-known organisations in media, professional services, finance and insurance, as well as public and charitable bodies. Ali is passionate about transforming the workplace environment with a mission to nurture cultures of belonging, giving individuals the platform to be able to joyfully contribute to their workplace, no matter who they are.

They pride themselves on their immersive approach to their teaching, allowing people to participate and gain a solid understanding of how to bridge the ever-present gap that currently exists across many places of work.

Citrus Ornge are incredibly excited to have Ali on board. As a unique business with a social mission to help those recovering from addiction and ex-offenders, Citrus believe Ali to be the perfect candidate to join their growing business.

Ali says: "I am delighted to formally join the team, I fully support the incredible work, mission and values that Citrus Ornge hold and am both very grateful and thrilled to offer my expertise to Jason and the team."

Jason Baker, CEO commented: "I feel tremendously honoured to have Ali come on board. Their support, enthusiasm and flair for diversity and inclusion will make an excellent addition to our board. I cannot wait to see what 2022 brings as we continue to strive to become one of Brighton's leading businesses in busting the taboos and myths around topical conversations that so many shy away from."

END

For more information about Citrus Ornge, or to request images, please contact: 
Jade Knight
jade@citrusornge.com

About Citrus Ornge
Citrus Ornge is a specialist performance marketing, technology and publishing business that are experts in high-end B2B and B2C lead generation. We provide bespoke digital marketing products aimed at your customers. We know exactly where your customers are and how best to reach them. Further information can be

Found at www.cirtrusornge.com.

For more information about AliHannon.com, or to request images, please
contact: 
Ali Hannon
ali@alihannon.com

About Ali Hannon
Ali Hannon helps organisations transform their culture, by supporting them in their
equality, diversity and inclusion journey. They have worked with the community in
Brighton and London to affect change for LGBT+ people. Ali's clients include East
Sussex Healthcare NHS Trust, EY, ITV and Zurich.
This press release was distributed by ResponseSource Press Release Wire on behalf of Pure Performance Media in the following categories: Business & Finance, Media & Marketing, for more information visit https://pressreleasewire.responsesource.com/about.