INTERSPORT chooses Mood Media for its new Alpine store concept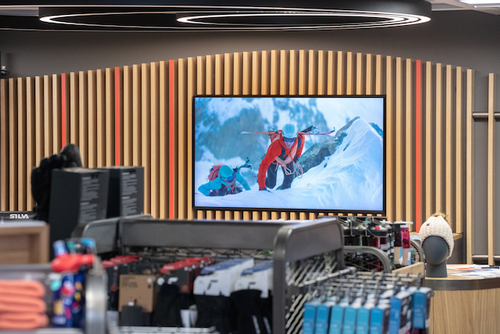 despite a very traditional setting, retail technology can be integrated and used to provide the best possible shopping experience.
INTERSPORT chooses Mood Media for its new Alpine store concept

London, U.K., January 5, 2023 – Mood Media, the world's leading experiential media company, announces that INTERSPORT Switzerland chose Mood Media and LG to equip its new Alpine store concept in Crans-Montana, in the heart of the Swiss Alps, with the latest audio-visual retail technology.

The hi-tech upgrade is instantly visible from the moment sports equipment shoppers approach the shop. In its front window, INTERSPORT's retail technology partner, Mood Media, has installed a 350x200cm LG display screen. It uses the latest LED technology to ensure its picture is bright enough to be seen even when the mountain sun is shining directly on the window. The screen has a light sensor attached so its brightness can be adjusted automatically.

Inside, there are three in-store digital displays that introduce shoppers to the brand's full range and explain their options to buy or rent equipment. The store make-over is not limited to displays, though. Sixteen Bose speakers, backed up by three subwoofers (for deep bass) have also been installed, all powered by a pair of high-quality Bose amplifiers.

Staff can control the audio-visual system via a supplied touch panel which integrates with the Mood HarmonyTM Content Management System (CMS). Content owned by INTERSPORT and its partners is planned so products can be promoted according to the brand's marketing campaigns calendar. This can be supplemented with a local and seasonal video content strategy for each store. Additionally, staff can stream INTERSPORT's international music playlist on the improved audio system.

This is important because recent Mood Media research found that the right music and visual immersive technology is key to providing the pleasant ambience that 71% of shoppers say is essential when choosing a physical store over shopping online.

The store is of particular significance for INTERSPORT because it represents the roll out of its new hi-tech Alpine concept in the traditional setting of a picturesque Swiss Alps resort.

"Alpine sports stores are traditionally quaint, but we wanted to support INTERSPORT in providing a more modern digital experience," said Stephan Schläfli, Head of Partner Business of INTERSPORT Schweiz. "The technology allows us to give INTERSPORT's customers a fully immersive experience even before they enter the front door and the speaker system provides a lively ambience to keep them coming back. This is a great example of how despite a very traditional setting, retail technology can be integrated and used to provide the best possible shopping experience."

"INTERSPORT specifically designed this concept for stores in Alpine countries for sales and rental of outdoor and winter sports gear and apparel," explains Rim Postumus, Global Accounts Director at Mood Media. "Adding digital store elements is part of the global 2.0 store revision program being undertaken by the company. The technology allows INTERSPORT staff to quickly update and roll out new seasonal campaigns straight to the screens, without the need for waiting for printed promotional material."

"The project is exactly the type of installation the latest LG technology was designed for," says Michel Houtzager, Sales Manager Business Solutions at LG Electronics Netherlands. "The LWBC LED display is well suited to environments where sunlight can get so bright, shoppers cannot see the screen clearly. With the attached sensor ensuring light levels are automatically adjusted, INTERSPORT can now ensure their customers are always connected to their messaging, no matter how bright the Alpine sun becomes."

The audio visual technology was installed in just three days at the end of September with the new store opening on October 3rd.


About Mood Media
Mood Media is the world's leading experiential media company that maximises the Customer Experience and provides value for businesses and brands worldwide. Our fully-integrated solutions leverage advanced digital technology, curated and original creative content, and design expertise to make every shopping and guest experience more personal and more engaging. Serving more than 500,000 customer locations in more than 140 countries, we reach over 150 million consumers each day. For more details: www.moodmedia.com.

Media Contact
Martha De Monclin
martha@bijoupr.com
T: 0777 168 2434

About LG Electronics, Inc.
LG Electronics is a global innovator in technology and consumer electronics with a presence in almost every country and an international workforce of more than 75,000. LG's four companies – Home Appliance & Air Solution, Home Entertainment, Vehicle component Solutions and Business Solutions – combined for global sales of over USD 63 billion in 2021. LG is a leading manufacturer of consumer and commercial products ranging from TVs, home appliances, air solutions, monitors, service robots, automotive components and its premium LG SIGNATURE and intelligent LG ThinQ brands are familiar names world over. Visit www.LGnewsroom.com for the latest news.


Ends
This press release was distributed by ResponseSource Press Release Wire on behalf of Martha Thierion de Monclin T/A Bijou PR in the following categories: Media & Marketing, Retail & Fashion, Computing & Telecoms, for more information visit https://pressreleasewire.responsesource.com/about.