Entrepreneurial Couple Buy Back the Brand They Sold to Private Equity in 2020.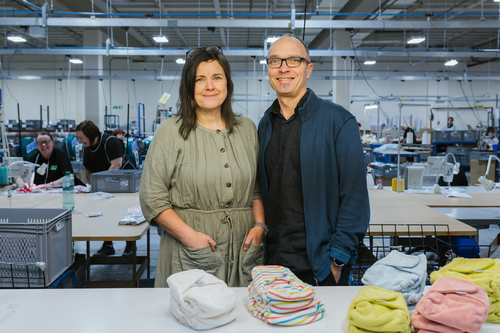 It's nappy families all round as TotsBots, the award-winning cloth nappy brand based in Glasgow, is now back in private ownership. In December 2020, Magnus and Fiona Smyth sold the company to private equity firm True Global but three years later, they have bought it back!

The couple founded the business in 2000 after spotting a gap in the market for a UK made reusable nappy. They grew it from a kitchen table, work-at-home business to becoming a leading cloth nappy brand, exporting nappies all over the world and employing 55 staff in their factory in Glasgow. With over 20 years of experience, TotsBots now boasts a high-quality, eco-friendly range of nappies made from sustainable materials, including bamboo and recycled plastic waste. The company has also expanded its offering to include reusable period wear brand NORA.

In 2020, TotsBots was acquired by True Global, a company that invests in sustainable and purpose-driven businesses. As part of this acquisition, TotsBots joined forces with Frugi Organic Childrenswear, which was already a part of the True Global portfolio, to form a group of companies with shared values and goals. Magnus and Fiona Smyth stayed on as consultants to continue to provide TotsBots with their experience and expertise.

The excitement was short lived as a few months after the sale, COVID hit the UK and Brexit took hold. Three very difficult trading years followed culminating in Frugi going into administration in November 2022. Frugi was purchased by Celtic & Co in a pre-pack deal to save the brand, and the couple began plans to purchase TotsBots back from True Global - the buy-back deal was concluded on the 16th March; returning it safely into their family fold after three years away.

The couple's key focus will be on reversing some of the previous decisions made while under group management, primarily bringing all production back into the UK, focusing on introducing new and innovative products and injecting a bit of cheeky sparkle back into the heart of TotsBots.


"We are delighted that we can bring the TotsBots brand back into our family," said Magnus and Fiona Smyth. "Our focus now is to get back to the roots of the brand and we are especially excited to be bringing all our production back home; the decision to start offshore production wasn't something we were particularly happy with, but it wasn't our baby anymore and we had to let it go. We are really loving getting back into New Product Development and have some very exciting things in the 2024 pipeline. We are also looking forward to growing our NORA reusable period wear brand which launched last year. It's definitely not where we expected to be, but we are very happy to be here as things could have turned out so differently. It's great to have TotsBots back!"



With TotsBots' return to Scottish ownership comes an exciting new chapter for one of the UK's most loved reusable nappy brands. As Magnus and Fiona embark on this new journey together, they look forward to creating innovative products that make parenting easier - all while reducing waste from single use nappies! Their renewed passion for providing eco-friendly alternatives to single use products and their experience running two successful brands over 20 years, will ensure that it will be another success story for the couple - enabling them to continue on their mission to prove that small changes can make a mighty difference, for all of us!

Stockists: www.totsbots.com

ENDS

Notes to Editors:

Please contact adeline.scott@totsbots.com for supporting images and further information (Tel: 0141 774 6437)
----
www.totsbots.com
www.livebynora.com
hello@totsbots.com

Fiona and Magnus Smyth set up TotsBots at the kitchen table in 2000 after the birth of their baby girl, Maia. Appalled at the waste created by disposable nappies, they spotted a gap in the market for a UK made eco-friendly cloth nappy. With the aim to make a positive difference to the world by enabling parents to reduce their plastic consumption and waste, they designed their own nappies and TotsBots were born. The original products were made from simple cotton toweling, but fast-forward to today and their revolutionary and award- winning nappy designs are now made using recycled plastic bottles and eco-friendly bamboo fabrics. Not content with tempting parents away from disposable nappies, TotsBots also design and manufacture reusable sanitary pad brand Nora, helping people to have plastic-free periods too.


They are suppliers to the Scottish Baby Box (TotsBots) via PHS, and also to the DfE Period poverty scheme (NORA) and Excel (NORA)providing free period products to all local authority education establishments helping to put an end to period poverty throughout the UK.

The majority TotsBots & Nora products are made using Oekotex-certified fabrics and are manufactured in their factory in the East End of Glasgow.

Employees: 55

Background information


TOTSBOTS - Why Parents choose cloth:

They perform better than disposables

They save money - disposable nappies cost up to £1800 per child. Reusables will cost £150 to £350 depending on the brand and system chosen. They will last until potty training and can often be used for more than one child.

They divert waste - 5000 nappies thrown away per child amounts to 2 tonnes of waste per child.

They reduce raw material consumption by over 98% - Reusables will use around 2.5KG of reusable nappies whilst disposables will use around 150KG per child. (NB soiled nappies are much heavier than unused disposables)

They don't contain chemical gels, perfumes or known irritants, often found in disposables

They are much easier to use and wash compared to the nappies of days gone by.

They are much more attractive than throwaways; cloth nappy fans are known to proudly show their stash shots on instagram, inspiring other parents to make the switch.

Children potty train sooner in reusables.

TOTSBOTS - Some Facts & Stats

It is estimated that 2 in 10 parents are now using cloth. This has increased from 6%, 3 years ago. It is anticipated this figure will continue to grow.

8 million nappies are thrown away every day to landfill, that's 3 billion per year

Disposable nappies take 500 years to degrade.

Landfill is running out in the UK so this waste will soon have to be incinerated releasing toxins and greenhouse gases into the atmosphere

Including the energy to wash, reusable nappies are 25% better for the environment than disposables and eco disposables and use 98% percent less raw materials

Eco disposables are not the answer, they use the same amount of energy and raw materials to produce as disposables and what's worse is they don't actually biodegrade in landfill. Very little biodegrades in landfill as it is so tightly compressed there is no air and they end up preserving waste. Landfill sites are only designed to store waste not break it down. What little does break down releases methane, further contributing to greenhouse gas emissions.

NORA - Why people choose reusable period wear:

They perform better than disposables, more absorbent and much more comfortable.

They save money - Reusables will cost £50 depending on the brand and system chosen, compared to £500 in disposables.

They will last for up to 10 years

They divert plastic waste from landfill.

They reduce raw material consumption by over 98%

They don't contain chemical gels, perfumes or known irritants, often found in disposables

They are much more attractive than throwaways

NORA – Some facts and stats (source Womens' Environemental Network)

Women use more than 11,000 disposable menstrual products in their lifetime - based on average of 38 years of menstruation using 22 items of sanitary products per cycle, 13 cycles per year. 1

Statista estimated that in 2016, an estimated 1.8 million women (aged 15+) in the UK used 25 or more menstrual towels a month.

Average menstrual flow is around 85g per cycle. Barely enough to fill a small teacup. Most women and people who menstruate will do so for on average of 38 years and have approx. 500 periods in their lifetime.

The average of commencement for menstruation is 12 yrs old, although it can be as early as 8 for some girls and people who menstruate. 3

There are around 18 million women of menstruating age in the UK.

Disposal of single use menstrual products - tampons, pads and applicators generates 200,000 tonnes of waste per year.


NORA - Environmental impact by the numbers

Most menstrual pads are made from 90% plastic.

Plastic products can take up to a thousand years to decompose in landfills or in the ocean.

Half of UK women flush tampons away. It has been estimated that 1.5-2 billion menstrual items are flushed down Britain's toilets each year.

There are approximately 370,000 sewer blockages throughout the UK every year, of which up to 80% are caused by fats, oils and grease, wipes, sanitary waste and other unflushable items.

As many as 51 trillion microplastic particles - 500 times more than the stars in our galaxy —litter our oceans and seas, seriously threatening marine wildlife.

Microplastics can be twice as harmful leaching toxic additives into the ocean while they break down while also acting like a sponge absorbing other harmful chemicals from the sea water onto their surface. This makes them a very toxic morsel for fish, sea mammals and the humans that eat them.

Plastic waste kills up to 1 million seabirds, 100,000 sea mammals, marine turtles and countless fish each year. Plastic remains in our ecosystem for years, harming thousands of sea creatures every day.
This press release was distributed by ResponseSource Press Release Wire on behalf of TotsBots in the following categories: Children & Teenagers, Environment & Nature, Business & Finance, Retail & Fashion, Manufacturing, Engineering & Energy, for more information visit https://pressreleasewire.responsesource.com/about.