The Tech Trailblazers Awards announces 2023 finalists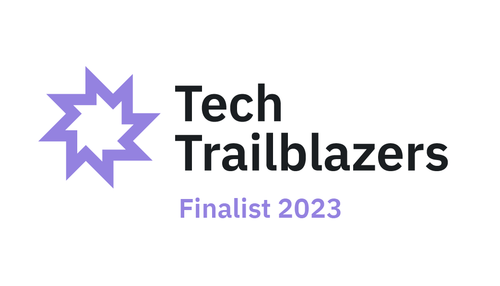 Omarketing Limited

Global awards platform for enterprise tech startups reveals its 12th edition shortlists

London, UK – November 3rd, 2023 – The Tech Trailblazers Awards, the first independent global awards program dedicated to the enterprise technology startup ecosystem, has revealed its shortlists of 2023's most innovative technology companies and concepts.

The entrants for the 16 categories have been reduced to just the top competitors, determined by a panel of high-calibre industry judges. The public now has a chance to voice their opinions as to which technology startup is going to shake up the enterprise landscape over the coming year. The voting is already open and will remain open until 17th November.

After the voting has closed, the 2023 winners of the Tech Trailblazers Awards will be announced on the 28th November.

To view the shortlists, and vote for your favourites, please visit https://www.techtrailblazers.com/shortlist
The Tech Trailblazers Awards 2023 shortlists are:

AI Trailblazers
• Abnormal Security
• Bearing AI
• HiddenLayer
• Luminance
• ProvisionAI
• TruEra
• Zenarate AI Coach

Big Data Trailblazers
• Coalesce
• Motionworks
• TDengine

Blockchain Trailblazers
• 1Kosmos
• Crystal Blockchain
• FCX
• The People's SCE
• Vatom

Cloud Trailblazers
• CoreStack
• Datamotive
• Dig Security
• Impossible Cloud
• Lightbits Labs
• Optilogic
• Sonet.io

Developer Trailblazers
• Descope
• LinearB
• Phoenix Security ASPM
• Piiano
• StackHawk

Diversity Trailblazers
• Academy
• Confirm
• Fuel Venture Capital
• OfColor
• Radically Digital

Female CxO Trailblazer
• Elena Antoneac
• Tammy Camp
• Kerri Davis
• Lilit Davtyan
• Eleanor Lightbody
• Maryam Rofougaran

FinTech Trailblazers
• ClearEstate
• FCX
• OfColor
• Salmon
• Zenarate AI Coach

Firestarter Trailblazers
• Gearlinx Inc
• Leil Storage
• Negative
• Phoenix Security
• ProvisionAI

Internet of Things Trailblazers
• Blues
• FloodFlash
• Memfault
• Morse Micro
• NetRise
• Radix IoT

Investment Trailblazers
• Acumino
• Fuel Venture Capital
• Tercera
• The Syndicate Group (TSG)

Male CxO Trailblazer
• Abdallah Abu-Sheikh
• Haseeb Budhani
• Tanner Burns
• Sam Johnston
• Shay Levi
• Simon Rodgers

Networking Trailblazers
• Aliro Quantum
• Gearlinx
• Nile
• Prosimo
• RtBrick

Security Trailblazers
• Abnormal Security
• Dig Security
• Ermetic
• Noname Security
• SpyCloud
• StackHawk
• SynSaber

Storage Trailblazers
• Datamotive Technologies
• Graid Technology
• Leil Storage
• Nodeum
• Object First

Sustainable Tech Trailblazers
• Bearing AI
• LandGate
• Negative
• Pigment
• Wayout International

Rose Ross, Chief Trailblazer and Founder of The Tech Trailblazers Awards said, "Year on year, I am amazed by the astounding calibre of our shortlisted companies and individual CxOs. This year is no exception. Congratulations to those outstanding finalists and best of luck! A big shout out of course to our dedicated judges who take so much time and care to select our finalists which is in itself no mean feat looking at the field who have entered this year. Good luck to you all in the public vote which can make all the difference on the podium!"

Key dates for your diary: The Tech Trailblazers 2023 awards winners will be announced on 28th November. Entries for the 2024 Tech Trailblazers Awards will open in Summer 2024.

For more information, visit www.techtrailblazers.com, follow @techtrailblaze, or listen to the #OnFire podcasts.

[ends]

Notes to editors

Founded in 2012, the Tech Trailblazers Awards was the first independent awards program dedicated to enterprise information technology startups, helping identify the most innovative companies and concepts in a range of categories. Entrants from anywhere in the world are invited to nominate themselves, with shortlists for each category chosen by the Tech Trailblazers' panel of leading IT industry experts. Winners are identified by a combination of judging panel opinions and public vote.

# # #

Media contact
Vicki Porter
Omarketing
+44 (0)20 8255 5225
vicki@omarketing.com

To view the shortlists, and vote for your favourites, pleasevisit

The entrants for the 16 categories have been reduced to just the top competitors, determined by a panelofhigh-calibreindustryjudges

For more information, visit or follow or listen to the #OnFirepodcasts.
This press release was distributed by ResponseSource Press Release Wire on behalf of Tech Trailblazers. in the following categories: Business & Finance, Media & Marketing, Computing & Telecoms, for more information visit https://pressreleasewire.responsesource.com/about.