BRITS' PIZZA TOPPING SECRETS REVEALED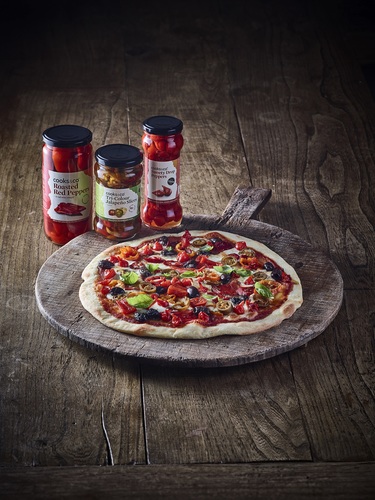 However, there's an extraordinary league of pizza enthusiasts - 2.7 million strong - known as the "super toppers,"
New nationwide poll reveals that Brits have a taste for top-notch pizza toppings with pizza customisation at home sweeping the nation and giving rise to a new breed of pizza "super toppers". Plus, Brits top pizza toppings uncovered.

Every year, the UK sees a massive GBP 5 billion spent on pizzas*, and while 80% of these are typically purchased from restaurants and takeaways, the landscape is evolving. This shift has led to a growing appetite for homemade pizzas and shop-bought alternatives that can be personalised and enjoyed in the comfort of one's own home.

Cooks&Co, the award-winning range of store cupboard ingredients, is at the forefront of this pizza revolution, witnessing first-hand the surging demand for its quality ingredients as pizza toppings. Its Green Frenk Chillies is now the no.1 best seller and its Sweety Drop Peppers has entered the top 10 best sellers list . In response, the brand recently conducted an extensive nationwide study to delve into the pizza-topping preferences of Brits, revealing a nation of astute pizza enthusiasts who relish the opportunity to become culinary pizza artists, experimenting with a diverse range of favourite toppings and flavours.

DIY Pizza Customisation Sweeps the Nation and gives rise to Super Toppers

On average, pizza-loving Brits across the UK tastefully embellish their pizzas with just under 3 distinct toppings. However, there's an extraordinary league of pizza enthusiasts - 2.7 million strong - known as the "super toppers," who take culinary creativity to new heights by piling on an impressive 6 or more toppings.

The art of pizza customization isn't just reserved for home-made pizzas either, nearly half (47%) of Brits admit to pimping up their shop-bought pizzas with extra toppings.

Surprisingly, nearly a fifth (19%) of Brits admit to going one step further and stripping away toppings from store-bought pizzas and replacing them with their own favourites. The 25-34 age group takes the reins in this picky topping transformation, with a third (33%) of them doing it. Northern Ireland residents proudly claim the title of champions in the customization arena, with a quarter (25%) confessing to taking part in this flavourful makeover.


Beloved Ingredients, Taste Divisions and Trending Ingredients

In the world of pizza toppings, the preferences are crystal clear. The top five favourites include extra cheese, shredded or chopped chicken, pepperoni, onions, and mushrooms. Conversely, the list of least-liked toppings comprises figs, jackfruit, aubergine, broccoli, artichoke, and seafood. The ever-controversial pineapple is a topic of fierce debate, with nearly half (48%) embracing its sweet tang, just over 2 in 5 (43%) staunchly refusing it, and 1 in 12 (9%) remaining undecided.

The popularity of pizza toppings like sweet peppers, chillies/jalapeños, and sundried tomatoes mirrors broader culinary trends. These flavours offer bold and unique taste experiences, aligning with the growing interest in Mediterranean and Latin American cuisines, where these ingredients frequently shine. Paired with other ingredients they help elevate pizzas to new heights of flavour and excitement, making them increasingly popular among pizza enthusiasts in the UK.

Katie Atkin, Brand Manager, Cooks&Co, comments, "In Britain, we are a nation of pizza lovers who value quality ingredients and enjoy experimenting with different toppings and flavours. The findings shed light on the ever-evolving world of pizza, where customisation knows no bounds, and the quest for the perfect slice is a culinary adventure.

"Our commitment to providing premium ingredients for the pizza-loving community and other dishes aligns perfectly with the creativity and passion we see in Brits' pizza-making endeavours and we're thrilled to be part of this flavourful journey."

For more information on Cooks&Co's premium ingredients, please visit our website.

The research was conducted by Censuswide with 2,000 UK General Consumers (National-Representation) between 11.09.23 to 13.09.23. Censuswide abide by and employ members of the Market Research Society which is based on the ESOMAR principles and are members of The British Polling Council.

*https://www.itspizzaweek.com/pizza-facts/

END

For more press information, please contact:
Neil Brenson / jellybean / Tel: 01372 220814 / Email: neil@jellybeancreative.co.uk

Notes to editors:

About Cooks&Co
Cooks&Co is an award-winning range of store cupboard ingredients simply sourced and full of flavour. Perfect for beginners looking for inspiration to passionate foodies, Cooks&Co brings exciting ingredients, such as Sweety Drop Peppers, Lotus Root, and Tri-Colour Jalapeños to the table - alongside trusted staples like beans and pulses.
This press release was distributed by ResponseSource Press Release Wire on behalf of JellyBean Creative Solutions Limited in the following categories: Leisure & Hobbies, Food & Drink, Retail & Fashion, for more information visit https://pressreleasewire.responsesource.com/about.