FORMER EUROPE MINISTER DAVID DAVIS ON UK200GROUP REFERENDUM PANEL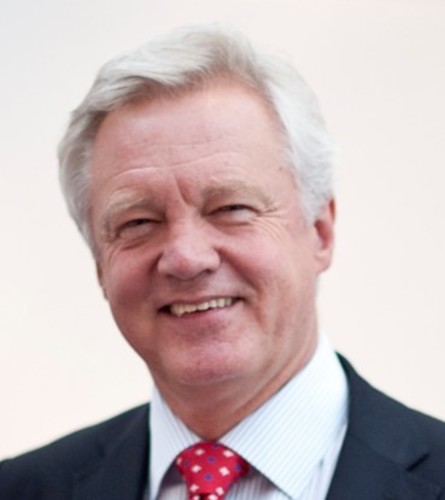 The EU referendum on 23 June is a once-in-a-generation chance for the British people to have a voice over our membership of the EU
David Davis, a former Europe Minister and Chairman of the Conservative Party, has confirmed that he will be a panellist at the UK200Group's 'Campaign for Clarity' debate on Wednesday 11 May, answering questions from the owners of small and medium-sized enterprises (SMEs).

An MP since 1987, David is the Member of Parliament for Haltemprice and Howden in Yorkshire. He is a well-respected member of the Conservative Party and is outspoken in his support of Brexit.

The debate is organised by the UK200Group, the UK's leading membership association of quality-assured independent chartered accountancy and law firms. The UK200Group's members provide accountancy and legal services to over 150,000 small and medium-sized enterprises (SMEs), and the body is seeking to provide unbiased guidance to the SME community – a group whose importance to the UK economy cannot be understated.

The debate is at the centre of the UK200Group's 'Campaign for Clarity', and will be live-streamed from Coventry University London Campus, University House, 109-117 Middlesex St, City of London E1 7JF from 4.30PM to 6.30PM (debate itself 5.00PM to 6.00PM) on 11 May.

David Davis said, "The EU referendum on 23 June is a once-in-a-generation chance for the British people to have a voice over our membership of the EU.

"Big businesses tend to have a good idea of whether leaving or remaining will be best for their business interests, but for SMEs – many of whom are sole traders or freelancers – there is often a lack of clarity. The UK200Group's determination to assist the SME community by giving it an opportunity to hear the arguments from both sides is brilliant."

Douglas Carswell MP, Member of Parliament for Clacton, is also arguing the case for Brexit. Douglas was the first elected member of the UK Independence Party, in a by-election triggered by his high-profile defection from the Conservative Party in 2014.

Yvette Cooper MP will make the case for remaining in the EU. One of the most respected members of the Labour Party and a former Shadow Home Secretary, Yvette is the Member of Parliament for Normanton, Pontefract and Castleford.

Lucy Thomas, Deputy Director of Britain Stronger in Europe, will also be arguing the case for continuing our membership of the EU.

The debate will be chaired by futurologist and author Dr James Bellini, who spent 25 years in the broadcasting industry presenting programmes such as The Money Programme, Newsnight and Panorama, and as a studio presenter with Financial Times Television and Sky News. James' experience in using the perspectives of history to explore possible futures make him an ideal chair.

James Abbott, President of the UK200Group, said, "David Davis has been a consistent and vocal exponent of the 'Leave' campaign, and we're delighted to welcome a politician of his seniority to the debate.

"The aim is to work through the issues that affect our members and their clients, asking broad questions but also focusing in on specific industries such as agriculture, education, construction, charity and healthcare."

Although the UK200Group remains impartial and unbiased, a poll of its members' views will be taken before and after the debate, giving a unique indication of the success of the speakers' arguments and the views of the UK SME community.

This will officially launch the UK200Group's referendum survey, which will continue to provide real-time analysis of the changing views of SME leaders in the UK. It will continue until the referendum on 23 June.

The UK200Group, which was established in 1986, represents a group of trusted, quality-assured business advisers – accountants and lawyers – who have over 150,000 SME clients in total. As such, the UK200Group acts as the voice for 1,500 charities, over 10% of all registered academies, more than 3,700 farms, 800 healthcare businesses and over 500 property and construction professionals.

Where: Coventry University London Campus, University House, 109-117 Middlesex St, City of London E1 7JF
When: 4.30PM to 6.30PM (debate itself 5.00PM to 6.00PM) on 11 May

Useful links:
The UK200Group: http://www.uk200group.co.uk/
UK200Group on Twitter: https://twitter.com/uk200group
Coventry University London Campus: http://www.coventry.ac.uk/culc/
Dr James Bellini: http://www.jamesbellini.com/
David Davis MP: http://www.daviddavismp.com/
Yvette Cooper MP: http://www.yvettecooper.com/
Douglas Carswell MP: http://www.douglascarswell.com/about-douglas/
Britain Stronger in Europe: http://www.strongerin.co.uk/

ENDS

High-resolution imagery is available.

The event is by invitation only. Journalists are welcome to attend the event, but must be accredited beforehand.

Media information provided by Famous Publicity. For further information, please contact George Murdoch at george@famouspublicity.com or 03333 442 341 or Tina Fotherby on 07703 409 622 or tina@famouspublicity.com.
About the UK200Group:

The UK200Group was formed in 1986, and is the UK's leading association of independent chartered accountants and law firms, with connections around the world.

The association brings together around 150 member offices in the UK with more than 500 partners who serve roughly 150,000 business clients. Its international links in nearly 70 countries give its members access to expertise across the globe.
This press release was distributed by ResponseSource Press Release Wire on behalf of The UK200Group in the following categories: Men's Interest, Women's Interest & Beauty, Business & Finance, Education & Human Resources, Medical & Pharmaceutical, Farming & Animals, Retail & Fashion, Public Sector, Third Sector & Legal, Manufacturing, Engineering & Energy, Construction & Property, for more information visit https://pressreleasewire.responsesource.com/about.