Celebrity Nutritionist Vivienne Talsmat Helps You to Live With Vitality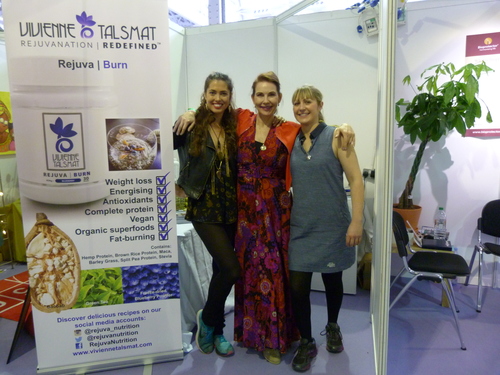 Clients, who often come across the globe to see her, leave Vivienne's clinic refreshed and re-geared
Vivienne Talsmat is a celebrity nutritionist and the founder of the market leading Rejuva Nutrition.

Vivienne's ultimate aim is to help people live life through vitality, and she achieves this with a combination of her bespoke and carefully formed nutrition plans, her own nutritional smoothie formulations and a selection of world-class rejuvenating and detoxifying treatments.

Since opening the doors to her clinic in 1996, Vivienne has treated more than 40,000 clients, including numerous celebrities, royalty and significant figures of the fashion and beauty world.

Amongst her glowing testimonials include Czech supermodel, Simona Krainová who said of the Rejuva products "They give my body the essential nutrition for the whole day" and actress Alice Eve who credits Rejuva Detox as her "favourite product in the whole world."

Vivienne has also consistently led the health and nutritional space, having trained over 300 therapists who assist in her mission to help people reach optimum health by following her revolutionary plans and advice.

Vivienne first developed the Rejuva Nutrition range seven years ago and shows a vibrant passion about the self-selected natural ingredients, ethical sourcing and UK-based production.

The range includes four delicious smoothie formulations; Detox, Burn, Sport and Warrior NRG each designed to have different, positive impacts on the body and mind.

One or two scoops of smoothie powder (depending on the product) can be mixed with a favourite fruit juice or nut, almond, rice or seed milk to create an instant, on the go booster drink. For a vibrant and juicier alternative, fresh fruits and vegetables can also be added by whizzing them in a popular household blender that liquidises the ingredients, savouring the nutritional benefits and creating enticing results!

The ingredients used in the smoothie powders are the highest quality, completely natural and ethically sourced which help aid amazing, beneficial results, such as boosting the immune system, and improving skin condition.

The carefully designed formulations mean that the body rapidly absorbs the nutrients for immediate effect. As a complete food source, the smoothies work as an activator and will aim to re-balance the body when life throws hectic schedules, stressful situations and all the pitfalls in between.

There are no animal products, dairy, egg, fillers, gluten, soya, sugars, sweeteners, wheat or yeast used in any of the products. There are also no artificial colours, flavours or preservatives and no GMO ingredients. Rejuva formulations are also suitable for vegans and vegetarians, making them one of the most superior and unique nutritional formulations on the market.

One to one consultations

At her West London clinic, clients receive a bespoke, one to one consultation. This involves anything from a calming meditation session, an experience on the Rejuva|Body machine, or a toxin-removing facial. Clients, who often come across the globe to see her, leave Vivienne's clinic refreshed and re-geared. As Vivienne's time is in such high demand, these appointments are by referral only.

Vivienne's tailored 28-day program promotes both a physical and emotional detox in line with an increased calorie intake of wholesome and nourishing foods that are good for both body and soul. The system is world-renowned and has been credited by weight-loss expert Professor Halmy for its revolutionary methods in promoting weight loss, well-being and a better adjusted body.

Away from her business, Vivienne takes part in a range of physical activities including daily yoga practice every morning, Pilates, Tai Chi and Krav Maga, a physical training and self-defence activity. In her youth, Vivienne competed as a National gymnast and faced competitions against the Belarusian Olympic champion Olga Korbut

Vivienne's mission is to contribute to a happier and healthier planet through optimum nutrition, where people live more joyful, fulfilled lives and thrive to reach their maximum potential and contribute to the success and happiness of others.

The flower that is visible in the Vivienne Talsmat logo is a lotus, the Buddhist symbol of rebirth and fortune. The lotus flower represents how individuals embark on a journey of rejuvenation with Vivienne, whether that is in a physical way, for example increasing energy or losing weight, or in a psychological sense, through a change in ideas and mind-set.

What makes Vivienne Talsmat different is how she embodies the essence of what her products, treatments and teachings aim to achieve, which is vitality, youthfulness and optimal health. Consuming the smoothies and embodying the holistic lifestyle approach herself, Vivienne has seen her energy levels and her positive outlook on life increase overwhelmingly over the years.

Many of her clients have described how going to Vivienne has been 'life changing' for their bodies, personal lives and careers. Author, Natalie Livingstone states "Vivienne is a powerhouse of positive energy and a limitless fort of knowledge. Her treatments have honed my body, sculpted my face and soothed my mind."

Vivienne has also been praised as "a guru… an extraordinary and very talented woman" by Interior Designer Tara Bernerd and "one in a million… an amazing talent and the best in her field" by Shadi Danin, the dermo-cosmetologist.

Why not try one of Vivienne's delicious recipes?

Put the Spring in Your Step Smoothie

• 300ml of apple juice
• 1 bag of baby spinach leaves
• 1/2 a pumpkin
• 1 avocado
• 1 lemon
• 1 scoop of Rejuva|Detox

Put all the ingredients into your blender and blend until smooth. Enjoy!

Links:
Vivienne Talsmat website http://www.viviennetalsmat.com/
Rejuva Nutrition on Facebook https://www.facebook.com/rejuvanutrition
Rejuva Nutrition on Twitter https://twitter.com/RejuvaNutrition
Rejuva Nutrition on Pinterest https://www.pinterest.com/rejuvanutrition/
Rejuva Nutrition on Instagram https://www.instagram.com/rejuva_nutrition/

ENDS

We would be delighted to provide product samples of Vivienne's Rejuva Nutrition smoothies to journalists.

For further information, images or to request product samples please contact:
Kitty Robinson on kitty@famouspublicity.com or 0333 344 2341
Tina Fotherby at tina@famouspublicity.com or 07703 409 622.
This press release was distributed by ResponseSource Press Release Wire on behalf of Vivienne Talsmat in the following categories: Men's Interest, Health, Leisure & Hobbies, Home & Garden, Women's Interest & Beauty, Environment & Nature, Food & Drink, Business & Finance, Retail & Fashion, for more information visit https://pressreleasewire.responsesource.com/about.