Swansea and Southampton top premier league of invoice payments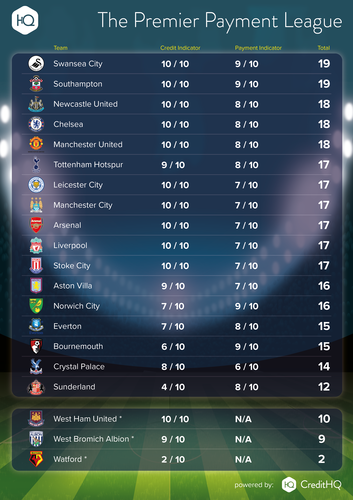 credit-checking customers and partners is something that every small business should do as a matter of course
Ormsby Street analysis reveals the payment performance and credit risk of premier league football teams

16 May 2016 – Swansea City and Southampton are the two best teams in the English Premier League when it comes to paying invoices on time and having a good credit rating with their suppliers.

Data analysis by fintech startup Ormsby Street, the company behind free credit-checking tool, CreditHQ, showed the two teams ahead of more successful on-pitch rivals, important information when most football clubs number hundreds of local small businesses among their suppliers.

Small businesses wait an average of 72 days for payment of invoices, while 2015 Ormsby Street figures showed the average overdue invoice to a small business was worth £6,142. The Payment Premier League was compiled by combining figures for payment performance and credit risk.

"If a small business wins a contract with their local football team then it is easy to let the heart rule the head, and just go ahead with the work regardless – people love the idea of working for the team they support," said Martin Campbell. "But our analysis shows that just because a team is good on the pitch, it doesn't necessarily follow that they will be as strong when it comes to paying invoices on time. Not every business is as efficient as Swansea and Southampton are at paying invoices to local businesses on time."

"Winning a major contract with any sizeable local company is a big deal for a small business, but few would think to run a credit check. Yet the average time for a small business to be paid is 72 days, a period of time which could be seriously problematic for a small business, if the figures involved were big enough."

Sunderland and Crystal Palace prop up the payment premier league, meaning small businesses should be more mindful when trading with those teams. There was insufficient data around payment performance for West Ham United, Watford and West Bromwich Albion to be included in the final table, although Watford's credit rating of two out of ten suggested that it would be bottom of the league should data have been available.

"For the most part, English Premier League teams pay on time, but credit-checking customers and partners is something that every small business should do as a matter of course," continued Martin Campbell. "Late payment threatens a small business' ability to grow and sometimes even survive. When Portsmouth FC faced financial difficulties a few years ago, there were many small businesses in the area that ended up not getting paid so there is a clear precedent for not letting local loyalty get in the way of sound business insight."

CreditHQ is a free online tool that allows a small business to check the credit status, payment performance and general financial health of any customer or partner. It takes credit data from Companies House and major credit data supplier Dun & Bradstreet and presents the analysis via a simple traffic light ratings system. The traffic lights show clearly the level of risk associated with the company in question, with users are given two different ratings, one addressing credit risk and the other payment performance.

"Late invoice payment is a blight on small business in the UK," concluded Martin Campbell. "Many larger companies do not pay when they should so, so small businesses must protect themselves against this by learning more about the financial health of their customers."

For any small business with concerns about a customer's ability to pay on time, Ormsby Street recommends the following measures:

• Stay on top of your invoice process to get invoices out on time.
• Follow up before the invoices are due.
• Chase invoices when due and always charge interest on overdue invoices (or issue a letter of intent).
• Review payment terms for this company, including payment up front if you are really worried about the impact of late payment.
• For major concerns about a customer's financial health, don't be afraid to walk away from a deal.

-ends-

For further information:
Paul Allen / Rise PR
paul@risepr.co.uk / +44 (0) 7515 199 487

About Ormsby Street
CreditHQ is built by Ormsby Street, a Software-as-a-Service business based in Old Street, London. Formed in 2014 to take over the operation of the financial data proposition of BCSG, Ormsby Street is developing the next generation of financial data services for small businesses. Its team of high-performing product innovators and software engineers are quietly taking sophisticated financial information and turning it into a next-generation digital tool to help businesses make good decisions about customers, suppliers and themselves.
This press release was distributed by ResponseSource Press Release Wire on behalf of Rise PR in the following categories: Personal Finance, Business & Finance, Computing & Telecoms, for more information visit https://pressreleasewire.responsesource.com/about.