Where Can the SME Community Get Clarity Ahead of the EU Referendum?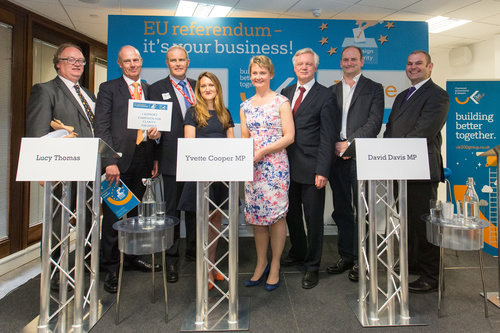 the UK200Group has identified ten key events that are intended to provide further clarity ahead of the EU referendum
As the EU Referendum on 23 June draws closer, many small and medium-sized enterprise (SME) owners are still unclear on how leaving or staying in the EU will affect their businesses.

The UK200Group, the UK's leading membership association of quality-assured independent chartered accountancy and law firms, launched its Campaign for Clarity in a bid to provide its members' clients – SME owners – with the information they need to make a good decision in the best interests of their businesses. Collectively, the UK200Group's members support over 150,000 SMEs.

The UK200Group recently held a high-profile and heated debated between proponents of the Remain and Leave campaigns: Yvette Cooper MP and Lucy Thomas for Remain, and David Davis MP and Douglas Carswell MP for Leave. In addition, the UK200Group has identified ten key events that are intended to provide further clarity ahead of the EU referendum. In chronological order:

1. May 31: Institute of Directors Wales EU Referendum Breakfast Debate, Cardiff. Robert Lloyd Griffiths OBE facilitates a breakfast debate with senior Welsh politicians and prominent business leaders. http://www.iod.com/connecting/events/2016/may/iod-wales-eu-r...

2. June 2 and 3 (both 8PM): Sky News TV debates 'EU: In or Out'. On June 2, Sky News Political Editor Faisal Islam will interview Prime Minister David Cameron (Remain) and on June 3 he will interview Justice Secretary Michael Gove (Leave) http://news.sky.com/story/1694517/cameron-and-gove-in-eu-vot...

3. June 2: Edinburgh Business School, 'Facts and Impartial Analysis for the EU Referendum'. Professors Charlie Jeffery, David Bell and Juliet Kaarbo will speak about issues surrounding the EU referendum https://inconference.eventsair.com/david-hume-spring-2016/re...

4. June 6: BBC Two Victoria Derbyshire EU referendum debate, Manchester. A studio audience will quiz politicians from the Remain and Leave campaigns. Apply to attend here: https://ssl.bbc.co.uk/programmes/articles/5ySsrxnX2NBJZjGZVG...

5. June 7, 11.30AM: At the World Trade Symposium at the London School of Economics, a 'Brexit' session will take place with Liam Fox and John Longworth of Vote Leave and Lucy Thomas of Britain Stronger in Europe. https://worldtradesymposium.com/agenda/

6. June 7, 6.30PM: Evening Standard debate at the Royal Geographical Society, London, including Chuka Umunna MP, Daniel Hannan MEP and others: http://www.standard.co.uk/debate/is-london-better-in-or-out-...

7. June 7, 9PM: Prime Minister David Cameron and UKIP leader Nigel Farage face each other in the first of two ITV live debates, moderated by Julie Etchingham. http://www.itv.com/news/2016-05-11/david-cameron-and-nigel-f...

8. June 13: Federation of Small Business debate. Moderated by BBC presenter Polly Evans, the debate will see Chuka Umunna MP and Richard Reed of Britain Stronger in Europe face Kwasi Kwarteng MP and John Longworth of Vote Leave. http://www.fsb.org.uk/media-centre/press-releases/chuka-umun...

9. June 21, evening: Wembley Arena debate programme, broadcast live on BBC One and moderated by David Dimbleby. http://www.bbc.co.uk/news/uk-politics-eu-referendum-35644638

10. June 22: 'The Final Debate with Jeremy Paxman', Channel 4. The guests have not yet been confirmed but with only hours to go before the polls open, this may be the last chance to hear the views of the Remain and Leave camps. http://www.channel4.com/info/press/news/jeremy-paxman-to-hos...

The UK200Group, which was established in 1986, represents a group of trusted, quality-assured business advisers – accountants and lawyers – who have over 150,000 SME clients in total. As such, the UK200Group acts as the voice for 1,500 charities, over 10% of all registered academies, more than 3,700 farms, 800 healthcare businesses and over 500 property and construction professionals.

Useful links:
The UK200Group: http://www.uk200group.co.uk/

ENDS

If you know of any other key events, please let us know.
Media information provided by Famous Publicity. For further information, please contact George Murdoch at george@famouspublicity.com, Adam Betteridge at adam@famouspublicity.com or 03333 442 341 or Tina Fotherby on 07703 409 622 or tina@famouspublicity.com.

About the UK200Group:
The UK200Group was formed in 1986, and is the UK's leading association of independent chartered accountants and law firms, with connections around the world.

The association brings together around 150 member offices in the UK with more than 500 partners who serve roughly 150,000 business clients. Its international links in nearly 70 countries give its members access to expertise across the globe.
This press release was distributed by ResponseSource Press Release Wire on behalf of The UK200Group in the following categories: Children & Teenagers, Men's Interest, Health, Home & Garden, Women's Interest & Beauty, Consumer Technology, Motoring, Food & Drink, Personal Finance, Business & Finance, Travel, Education & Human Resources, Medical & Pharmaceutical, Media & Marketing, Farming & Animals, Retail & Fashion, Public Sector, Third Sector & Legal, Manufacturing, Engineering & Energy, Computing & Telecoms, Transport & Logistics, Construction & Property, for more information visit https://pressreleasewire.responsesource.com/about.