UK Medics Heading to Arctic Norway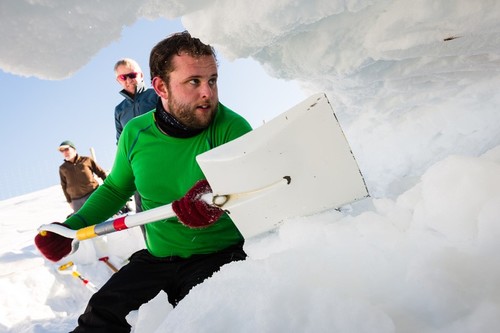 Doctors have to experience the challenges of moving around and living in the freezing cold in order to be useful expedition medics in these areas
Just as the UK looks set to warm up, a group of doctors and medical professionals is heading to the cold extremes of Alta, a town in the far north of Norway, to learn medicine and survival skills that will help them on future expeditions in polar conditions.

The course, run by West Country firm World Extreme Medicine, has been developed for medical professionals, expedition and wilderness medics working in cold and high-altitude environments, and will run from 26 February to 4 March 2017.

The Polar Medicine course aims to use the winter evenings to cover the essential expedition medical skills required to care for and treat injuries and illnesses likely to occur in this harsh environment, whilst the days are spent in the field, learning practical skills.

The course takes place over seven days and nights, and participants will encounter challenges such as shelter construction, cold water immersion and navigation. At the same time, they will learn about common cold temperature conditions such as frostbite, hypothermia and plan for these eventualities.

London-based Matt Edwards, a senior Emergency Department doctor and prehospital physician in Kent, Surrey and Sussex, will lead the group. He has experience of medicine in cold extremes, having spent a couple of seasons providing medical cover to scientists with the British Antarctic Survey, and supported Across the Divide Arctic dog sled expeditions.

Matt said, "With the pressures on NHS doctors and nurses constantly increasing, the polar medicine course gives medical professionals an opportunity to experience working outside of a hospital environment, in conditions that are hostile to humans.

"While the skills that they learn in Norway equip them to support expeditions into the Arctic and Antarctic regions for science, exploration or industry, we find that the attendees' learnings serve them well on their return to clinical environments in the UK.

"The course focuses on treatment of medical conditions and situations that are common in the polar regions, but within a framework that teaches attendees survival skills in austere conditions. Doctors have to experience the challenges of moving around and living in the freezing cold in order to be useful expedition medics in these areas."

The fact that this course is useful to hospital medicine has been recognised by the Royal College of Surgeons of Edinburgh, which awards 30 Continued Professional Development points to attendees.

Mark Hannaford, founder of World Extreme Medicine, said, "This course gives attendees the chance to test themselves in a real-life extreme environment, possibly for the first time in their careers.

"Every extreme medic starts somewhere, and we may just find that the week in Norway ignites the expeditionary spark in some of the attendees.

"From there, they can go anywhere. They could provide medical support for scientists working in Antarctica, or with more training go on to work in other exciting areas such as deserts, high mountains or in conflict zones."

The next instalment of the World Extreme Medicine Polar Medicine course will take place 23 – 28 July in New Zealand.

Ends

The Polar Medicine course costs £2,699 and more information can be found here: http://www.expeditionmedicine.co.uk/index.php/products/event...

Media information provided by Famous Publicity. For more information, please contact George Murdoch at 0333 344 2341 or george@famouspublicity.com , Tina Fotherby at 0333 344 2341 or tina@famouspublicity.com or Adam Betteridge at 0333 344 2341 or adam@famouspublicity.com.

About World Extreme Medicine:

World Extreme Medicine (formerly Expedition & Wilderness Medicine) is the world's leading provider of expedition, wilderness and remote medicine training courses for medical professionals.

Designed to provide medics with the expert knowledge and practical skills they need to become valuable members of an expedition or a remote medical team, World Extreme Medicine's courses achieve 100% approval ratings from participants, with 82% deeming them 'Excellent'.

Courses take place both in the UK and abroad, with locations carefully chosen to enhance learning opportunities in the field and enrich the experience for all those taking part.
This press release was distributed by ResponseSource Press Release Wire on behalf of World Extreme Medicine in the following categories: Men's Interest, Health, Women's Interest & Beauty, Environment & Nature, Business & Finance, Travel, Medical & Pharmaceutical, for more information visit https://pressreleasewire.responsesource.com/about.