Rethink Food Preparation with Collaborative Robotics Research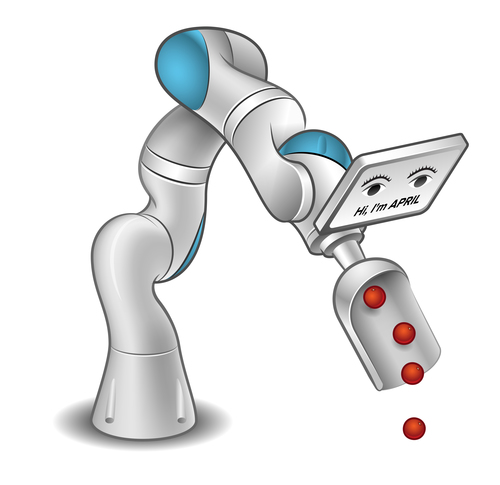 The days of labour intensive industrial food preparation could be numbered with the launch of an Innovate UK project focused on robotics in food manufacturing. OAL (Olympus Automation Ltd.) and the University of Lincoln, UK, have been awarded £448,850 to develop innovative APRIL™ robotics material handling systems for food manufacturers.

The new project aims to enable a step-change in the adoption of robotics and automation to enhance productivity in the food and drink industry, the UK's largest manufacturing sector. It will be led by engineers from OAL in partnership with the University of Lincoln.

The new one-year project, which is supported by a grant of £448,850 from the UK Government via Innovate UK and the EPSRC's Robotics and Autonomous Systems (RAS) research fund, will focus on automating the processes of handling, weighing and transporting the raw ingredients. It will also make strides in developing key hygiene and food safety features which will be crucial when using robotic production systems within the food manufacturing sector.

Harry Norman, Managing Director of OAL, explained: "Food manufacturers are facing rising costs and with little opportunity to increase their prices, they are seeking new and effective ways of improving productivity.

"Throughout the project, we'll be taking a step-by-step approach, working our way through common operations found across the food manufacturing sector such as weighing, sieving, and moving ingredients around. One criticism of automated systems in the past has been the lack of flexibility, but we will aim to develop flexible APRIL robotic systems that can handle some of these tasks and take the pressure off food manufacturers."

The researchers will conduct an in-depth study of the processes currently used in the industry and will then develop new automated raw material handling systems to integrate with OAL's existing technologies widely deployed across the industry. By automating the handling and movements of raw ingredients, the researchers expect to make major advances in efficiency, quality and quantity in the production of food products such as sauces and soups when compared with traditional processing technologies.

The research will take place in the dedicated Robotics & Automation Zone of the National Centre for Food Manufacturing at the University of Lincoln's Holbeach Campus in South Lincolnshire, in the heartland of the UK's food and drink sector.

TheUniversity of Lincoln is a key research partner of OAL, supporting both their recent APRIL robotic chef development and two other Innovate UK projects focused on steam infusion high speed cooking and cryogenic cooling of food products.

Stephen White, OAL's Lead Automation Engineer on the project, said: "I've been automating food production systems for my whole career, nearly 30 years, and the time is right for robotics. There have been a couple of false dawns but the industry need a productivity boost and the technology is now available at the right price point - it's really exciting.

"APRIL is a great example of this in the way she uses robotics to simplify how we cook food. We're able to emulate how you would cook at home with small batches with up to half the amount of capital of equipment required in a traditional system.

"The University of Lincoln is a fantastic industrial partner and we've accelerated the progress of the project by working at the National Centre for Food Manufacturing. Working in an SME we're very quick to jump on new ideas that can span many engineering disciplines. It's vital to be able to access the advanced knowledge across the University of Lincoln from robotics to advanced modelling."

Mark Swainson, Deputy Head and lead for Research and Higher Education at the National Centre for Food Manufacturing, said: "This project tackles directly many of the technical and scientific challenges in material handling for robotic automation of food manufacturing processes. In doing so, it will greatly enhance the potential for companies of all sizes to embrace the improvements in productivity, sustainability and quality which these technologies make possible.

"We are proud to be working with an innovative and bold British company in OAL, combining their industry insight and engineering expertise with academic knowledge and R&D facilities at the University's National Centre for Food Manufacturing and Lincoln School of Engineering. Together we can pursue innovations that offer tangible benefits for manufacturers, retailers and consumers in an industrial sector where the UK is exceptionally well-placed to emerge as a world leader."

OAL's latest system, the APRIL™ Weighing Station, an automated dry weighing system will launch at Interpack 2017. You can learn more and get APRIL to sign you a autograph in Hall 5 Stand B28 at the show running from 4th to 10th May in Dusseldorf.

-ENDS-

Notes for editors:

For media enquiries, including interview and image requests, please contact:

Jake Norman, Innovation & Marketing Manager at OAL, on email: jake.norman@oalgroup.com or tel: +44 (0)1733 394700

About OAL:

OAL help forward thinking food manufacturers reduce the costs (Production, Quality, and Environmental) of converting raw ingredients into finished products by supplying innovative turnkey engineering systems and software solutions. Over the last 25 years, we have built a unique team comprising of automation, design, mechanical and product development specialists that allows us to cover most systems used in a food manufacturing facility. Strategically increasing their R&D spend to 8.2% of turnover has allowed OAL to develop DISRUPTIVE technologies that can give our clients a competitive advantage and push the boundaries of food manufacturing helping to future-proof the world's best food businesses.

About the University of Lincoln:

The University of Lincoln is a top 50 UK university (Complete University Guide 2017) and recognised as one of the country's leading young universities (Times and Sunday Times Good University Guide 2017). We have some of the most satisfied students in the UK, placed in the top 10 for student satisfaction in the National Student Survey 2016 with several of our courses ranked number one for their subject areas. We are known for our pioneering approach to working with employers, winning a Lord Stafford Award and a Times Higher Education Award. Graduate prospects are strong with 95 per cent of Lincoln's most recent graduates in work or further study six months after finishing their course and almost three quarters in graduate level roles. In the Research Excellence Framework 2014, more than half of our submitted research was judged to be internationally excellent or world leading.
This press release was distributed by ResponseSource Press Release Wire on behalf of OAL Group in the following categories: Food & Drink, Business & Finance, Manufacturing, Engineering & Energy, for more information visit https://pressreleasewire.responsesource.com/about.