Electric motor pioneer, Saietta raises more funding and advances towards powering revolutionary affordable high performance electric vehicles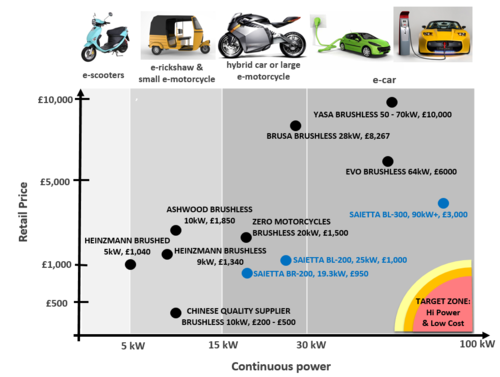 Saietta holds the key to unlocking mass market adoption of the superior axial flux motor technology for vehicle propulsion.
Multi – world record holder Saietta is ripping up the rule book of electric motor technology. Already over halfway through their £5.85 million fundraising, Saietta is now directly opening this EIS approved opportunity out to accredited investors online.

Saietta's super-compact, ultra-efficient and high power axial flux magnetic motors have achieved multiple speed records on land, air and sea through a unique combination of F1, aerospace and automotive expertise. Already over 80% of electric racing motorcycles use Saietta motors. Saietta motors are ultra-light and highly cost competitive compared to any electric propulsion motor being used in today's electric vehicles. Their designs and IP are unique and their power and range output is exemplary. This is evidenced by Saietta powering the first ever electric powered manned aircraft flight across the English Channel and the first manned electric powered helicopter.

Saietta holds the key to unlocking mass market adoption of the superior axial flux motor technology for vehicle propulsion.

Saietta is focused on a number of key areas in the electric vehicle market. As well as the developing market of mass production of electric cars and hybrids Saietta is focused on delivering shorter term business goals in the lightweight vehicle sector (motorcycles and auto-rickshaws). This lightweight vehicle market is enormous with over 46 million new vehicles every year and the percentage of these switching to electric propulsion is growing exponentially. These lightweight vehicles also have far shorter development lead times than cars. Additionally, the auto-rickshaw market presents a further opportunity as the existing auto-rickshaw fleet is ideal for retro-fit conversion to electric propulsion. Saietta is currently marketing a range of proven and highly cost effective motors for these opportunities. Going forward it will continue to address the retro fit market (made possible by Saietta's ultra-compact motors) as well as the new vehicle market across every class of vehicle. This retro fit market is a huge - there are a billion cars in the world today versus only 70 million new ones produced each year.

With a formula-E grade technology proposal of an axial flux motor for under £1,000 Saietta is unlocking the short range / heavy battery / expensive vehicle / poor performance trap of the current generation of e-vehicles.
Each year there are almost 120 million vehicles produced. There are presently an estimated one billion cars in operation, several hundred million motorcycles and several million auto-rickshaws. Industry estimates indicate that new car production will rise to circa 90 million by 2021. Tesla with production of 75,000 vehicles per annum already has a larger market capitalisation than Ford with 6.7 million vehicles per annum. Saietta is at the forefront of bringing the ultra-efficient performance of F1 Hybrid e-motors to an affordable second generation of every day vehicles with long range and smaller battery requirements.

Further details about Saietta be found at Nashco Online , or by contacting rkipling@nashcg.com / 07496011721
This press release was distributed by ResponseSource Press Release Wire on behalf of Nash Capital Group in the following categories: Environment & Nature, Motoring, Personal Finance, Business & Finance, Manufacturing, Engineering & Energy, for more information visit https://pressreleasewire.responsesource.com/about.