Gluten Free Baker Lands a Sweet Deal in the Den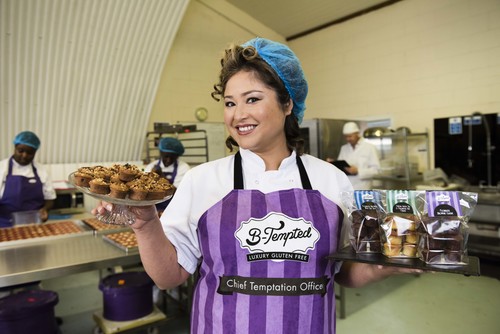 During her experience in the Den, Sarah found herself fighting back tears and struggling to keep her composure as Peter Jones grilled her
Embargoed until 21.00 15.10.17

Gluten Free Baker lands a Sweet Deal in the Den

• Australian entrepreneur Sarah Hilleary walks away with offer of £75,000 from Tej Lalvani
• B-Tempted bakes and supplies luxury gluten free cakes and brownies
• Since incorporation, the company has turned over more than £500,000 and is on a mission to become the world's No.1 gluten free cake brand
• Plans to significantly increase production volume and expand the company into Europe in 2018

Australian entrepreneur Sarah Hilleary proved it's possible to have your cake and eat it as she won over Tej Lalvani in last night's episode of Dragons' Den with her tempting range of gluten free cakes, and an even more tempting business proposition!

After successfully fending off a series of tough questions from the Dragons, the founder of luxury bakery brand B-Tempted, which has supplied gluten free bakes for the royal family, left with an offer of £75,000 from the millionaire vitamin entrepreneur.

A serious businesswoman with a very sweet tooth, Sarah created B-Tempted in 2009 after finding there were very few quality treats on the market for people with food intolerances like herself. She came up with the idea to create a range of bite-sized treats that are all gluten free and made with the finest ingredients such as Belgian chocolate. A completely self-taught baker, she started making cakes in her kitchen, testing out recipes on her flatmates and selling her bakes at Greenwich market. It wasn't long before her talent was spotted by buyers at high-end and boutique stores where she began supplying on a regular basis.

Like many entrepreneurs, Sarah's business journey has not been without difficulty. An investor dispute in 2011 forced her to liquidate her original bakery business and bid to buy back the company assets so she could continue to trade. Then, out of the blue her application to renew her UK visa was denied and she was faced with the possibility of being sent back to Australia and losing everything she had worked so hard to build. On top of that, Sarah's father suffered a heart attack the same year and she was unable to leave the country to visit him.

The experience left her down but not out, and in 2012, determined to build on the success of her brand and with her father well again and visa dispute settled, Sarah successfully made a bid to buy back her company from the investors and relaunched. She says:

"The whole experience was a massive learning curve for me. I realised how naïve I had been and wished I had had the foresight to choose investors that were better aligned with my vision for the brand. But perhaps more importantly it taught me how resilient I am and how determined I am to turn my business into a massive global success. The only way to achieve that is not to give up when the going gets tough.'

During her experience in the Den, Sarah found herself fighting back tears and struggling to keep her composure as Peter Jones grilled her about being faced with the possibility of being kicked out of the country. She explains:

'Peter is very intuitive and picked up on the fact that the last few years have not been a piece of cake for me, personally or professionally. Until I went into the Den I had underestimated the psychological impact it had on me. I felt that Tej really understood my business and I was grateful that he chose to focus on the success of B-Tempted and shared my vision of what the business could achieve in the future.'

Sarah has ambitious plans for B-Tempted. Her products have been well received by the industry and public and have won numerous Great Taste Awards. The next step is for the company is significant growth, with investment in equipment, marketing and working capital. Currently in talks with Tesco to supply 150 of their 'Express' stores, Sarah also has plans to increase production volume, launch new flavours and expand into European markets next year.

Ends.

Media Enquiries: Lucy Heather, LHJ Media Ltd, 07789 485 372 / lucy@lhjmedia.co.uk

Pictures from the den are available at www.bbcpictures.co.uk

www.b-tempted.co.uk

NOTES TO EDITORS

About B-Tempted

B-Tempted is a luxury gluten free bakery, hand making deliciously tempting treats in London. Their mission is to become the world's number one gluten free cake brand, producing amazing tasting wheat and gluten free cakes with perfect textures. They've supplied high end department stores and members of the Royal Family for official engagements. The company bakes from a fully dedicated gluten free and SALSA-accredited site in Leytonstone, East London, and use only the finest ingredients in their products.

About Sarah Hilleary
35 year old Sarah Hilleary is the creative brain behind B-Tempted, making the world's best-tasting gluten free cakes and brownies. Sarah grew up in a small town in Australia and moved to the UK in 2005 after completing her degree in business at the University of Technology in Sydney, landing a job as a fund manager in the City of London.

When the credit crunch hit in 2008, Sarah decided to quit her high-flying city job and start her own company. Inspired by some of the CEOs she had met during her career to date, she started researching business ideas of her own. She explains,

"The credit crunch was happening and people were being made redundant all around me. I didn't want to work in a negative and uncertain environment, so I decided it would be better to take my future into my own hands. I figured that if there was no job security for me in the City I might as well have no job security doing something that I love and building my own business."

Sarah started researching a number of ideas, but her experience was in banking not baking! However, she spotted a gap in the market for good quality, great tasting gluten free products, and came up with the idea of producing amazing tasting cakes and brownies that were gluten and wheat free. She bought some cook books and taught herself to bake at home, trying out new recipes and flavours on friends and setting up a stall at Greenwich Market. After selling out in one day, she realised she was on to something.

Sarah's first big break came when she walked into Whole Foods with some samples in her handbag and asked to speak to the bakery manager. Her cakes were snapped up there and then and she walked out of the store with a deal to start supplying them within a couple of weeks. The business has now grown and has produced over 70,000 miniature cakes and brownies in the last three months alone.
This press release was distributed by ResponseSource Press Release Wire on behalf of LHJ Media in the following categories: Entertainment & Arts, Food & Drink, Business & Finance, for more information visit https://pressreleasewire.responsesource.com/about.