34% increase in customers of Responsible Finance providers sees industry lend £235m - and call for action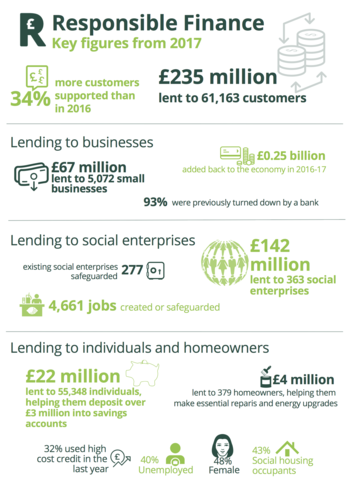 With access to the right tools: funding; tax reliefs; guarantees and fit-for-purpose regulation; the industry can continue to grow
Jamie Veitch Consulting on behalf of Responsible Finance

61,163 customers borrowed £235 million (GBP) from the UK's responsible finance providers in 2016-17, according to research published today.

The figures, published by "Responsible Finance" in a new report "Responsible Finance: The industry in 2017" also reveal that:

• £67 million of business lending from responsible finance providers to over 5,000 businesses resulted in 4,270 new businesses created in 2016-17, and 8,053 jobs created or saved in SMEs and micro enterprises – the "backbone of the UK economy";

• 304 social enterprises were created or safeguarded in 2016-2017 thanks to £142 million of responsible finance loans, creating or saving 4,661 jobs in social enterprises;

• Access to £22 million of affordable credit from responsible finance providers helped 55,348 people on low incomes, with no savings buffer, to avoid taking on high cost unmanageable debt in 2016-17.

But the UK's responsible finance providers could do more. The report calls for "fit-for-purpose" tax reliefs to incentivise greater investment into responsible finance providers, a dedicated £150 million responsible finance fund and a guarantee that current EU facilities which incentivise commercial investment into the responsible finance industry, are replaced, or access is maintained.

Jennifer Tankard, Chief Executive of Responsible Finance, said, "Responsible finance providers are a critical source of finance helping social enterprises, businesses and micro enterprises contribute to employment and job creation, including in some of the most deprived parts of the UK.

"Social enterprises themselves, they are a crucial source of working capital, investment and support for the UK's innovative social enterprises and businesses; 93% of business borrowers from responsible finance providers had been turned down by mainstream banks.

"And with millions of individuals now relying on credit to pay for essential household bills, and many high-cost lenders acting irresponsibly and preying on customers' vulnerability, the support that "mission-driven" responsible finance providers offer is needed more than ever. They treat customers fairly, only lend to those who can afford to repay, are transparent about the costs of borrowing, and provide supportive services that help customers increase financial inclusion."

The research describes how responsible finance is helping more people and businesses across Britain build their financial resilience – in 2017 the industry supported 34% more customers than in 2016.

"Responsible finance providers are recognised as trusted and transparent lenders offering considerable value for money in supporting businesses, social enterprises and individuals," added Tankard. "With access to the right tools: funding; tax reliefs; guarantees and fit-for-purpose regulation; the industry can continue to grow to match the need for access to finance."

The report, Responsible Finance: The industry in 2017, is available here.

ENDS

Notes to editors:

Jennifer Tankard, Chief Executive of Responsible Finance, is available for interview. Contact: j.tankard@responsiblefinance.org.uk/ 020 7430 0222 or jamie@jamieveitch.co.uk / 07904 272 200.

Responsible Finance is the voice of the Responsible Finance industry. Responsible Finance supports a strong network of responsible finance providers who are increasing access to fair finance across the U.K. At the heart of Responsible Finance is the idea of bringing social and economic benefits to people, places and businesses.

Responsible Finance members provide finance to customers not supported by other lenders. They offer a supportive service and treat people fairly. They are professional social enterprises that re-invest profits to help more people and businesses access finance.

Responsible Finance: The Industry in 2017 is based on a survey conducted by Responsible Finance, which was completed by 43 responsible finance providers. The reporting period is 1st April 2016 until 31st March 2017. The survey has been conducted annually since 2003 and was previously known as Inside Community Finance.

www.responsiblefinance.org.uk

Sent on behalf of Responsible Finance by Jamie Veitch.
This press release was distributed by ResponseSource Press Release Wire on behalf of Responsible Finance in the following categories: Personal Finance, Business & Finance, Public Sector, Third Sector & Legal, for more information visit https://pressreleasewire.responsesource.com/about.