BS6701:2016+A1:20171 is Published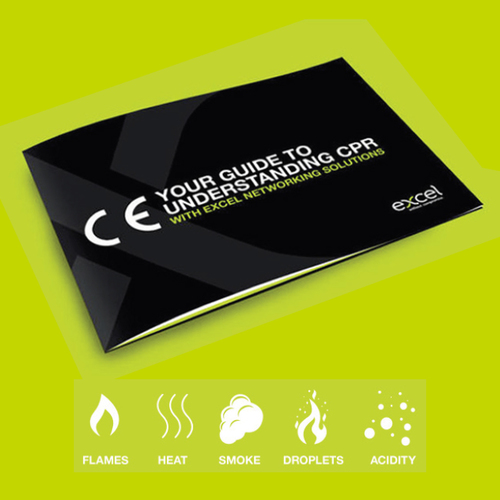 Our customers can be assured that we will offer copper and fibre cabling products to meet a wide range of application & EU member state requirements.
On 30th November 2017, British Standards issued BS6701:2016+ A1: 2017; an amendment to the frequently used standard entitled 'Telecommunications Equipment and Telecommunications Cabling – Specification for installation, operation and maintenance.'

Within the various updates contained in this amendment, is the requirement for installations aiming to comply with this standard to use a minimum specific Euroclass from the series of classes defined in the Construction Products Directive, which came into law across EU member states on July 1st 2017. To comply, the amended BS6701 end users, specifiers and installers must use a minimum of Cca S1b d2 a2.

The Construction Products Regulation (CPR) has been a prevalent topic across the industry over the past 18 months, with the period of co-existence ending in July of this year. During this period, Excel Networking – in tandem with the whole structured cabling sector – were preparing for the expansion of the legislation to include performance specifications relating to how cables react to fire. The aim of this revision was to harmonise these specifications across all EU member states through a pre-defined classification structure; "Euroclasses".

This classification structure covers seven Euroclasses from A to F, where A-class cables have the highest retardance to fire, and F- the lowest. However, the revisions to the legislation also mean that heat release, smoke production, light transmittance, flaming droplets and acid production are considered alongside fire retardance when denoting a Euroclass classification. It is the responsibility of each EU member state to define the recommended minimum Euroclass standard for installations within its market.

Andrew Percival, Managing Director commented "Our customers can be assured that we will offer copper and fibre cabling products to meet a wide range of application & EU member state requirements. Our sales and technical support teams have an extensive knowledge of CPR requirements and how the changes will impact upon our customers, so we are able to provide customers with the right advice to ensure their installations are fully compliant."

Andrew continued "All Declaration of Performance (DoP) documents are available on the Excel website, with all product packaging labelled in accordance with the regulation and the Euroclass to which the cable meets will be printed on outer sheath, for complete peace of mind."

Fire performance class will also appear on all Excel Networking specification sheets and in further editions of the product catalogue, along with sub-classifications for smoke development, flaming droplets and acidity.

Andrew concluded "The Excel team have been preparing for the introduction of CPR since early 2016. As a result, we are ready to meet multiple Euroclass and country specific minimum requirements, from Eca through to B2ca. We have stock of unscreened and screened copper cables and multi and single mode fibre optic cables. We have already successfully delivered a number of UK and International projects to Cca class and above, and are excited to continue this success in line with the developments of CPR to ensure all installations are compliant."

Further details are available on our dedicated landing page on the website and in our Understanding CPR Pocket Guide.

For further information on stock availability or pricing for Excel's CPR-compliant cabling products, please contact the team on 0121 326 7557 or email us at sales@excel-networking.com.

For further information, please contact:
Rebecca Bishop
Marketing Communications Executive - Excel
E: rebeccab@mayflex.com
T: 0121 326 2278
W: www.excel-networking.com
This press release was distributed by ResponseSource Press Release Wire on behalf of Mayflex UK Limited in the following categories: Business & Finance, Manufacturing, Engineering & Energy, Construction & Property, for more information visit https://pressreleasewire.responsesource.com/about.