Next year's toys? - Its all about SLIME!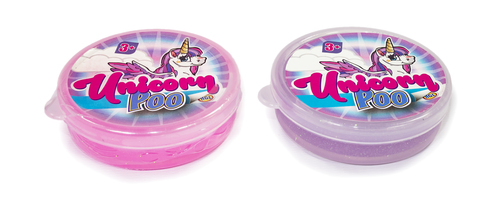 It's all about pocket money slime this year for H. Grossman Ltd. The company that cornered the market in fidget spinners last year is introducing hundreds of new lines for 2018.

This year if it's not covered in slime or putty it just isn't worth having! HGL are building on the success of their slime range by introducing everything from the magical to the metallic. Want some glitter in your slime – opt for Unicorn poo! Like a putty with a purpose? Go for Thinking Putty or any one of the myriad of ranges on offer. All available at pocket money prices.

H. Grossman Ltd is the largest toy company in Scotland - based in Glasgow and famous for giving us the best toy crazes of the last decade including loom bands, skoobie strings and of course Alien Eggs.

Alien Eggs took the toy world by storm in 1999 winning numerous awards including the coveted Toy Craze of the Year. The popularity of this range has never waned, this range has now gone on to sell over 30 million units worldwide and the sales show no sign of slowing down. Last year saw the introduction of the award winning Grow Alien egg and this year there will be additions to this range with new products added in all sizes starting at 99p upwards. Ten new eggs - a unique design, completely designed in-house, will add to this success story. - simply immerse the Egg in water and wait for another little alien to hit the planet! Another pocket money priced winner which will introduce yet another new generation of children to the Alien Egg concept is the Alien Light up eggs. An egg the size of a duck egg, filled with glowing slime, the perfect combination. There are also eight new Alien eggs, part of the original concept and helping to keep this range selling well.

Dinosaurs and fossils have always been a winner with kids and this year HGL introduce the Fossil Egg, just chip away until you reveal the magical fossil within. A great way for kids to have fun and learn about the past. Designed to retail at under a pound, these fossil eggs are affordable and collectable.

The Ozbozz brand is renowned for great outdoor products and this year sees a brand new version of a Light Up Trike, perfect for pre-schoolers. Emojis and Ghostbusters are the licensed products on offer and they join the the best selling Light Burst and Unicorn scooters. Unicorns have been all the rage this year and Grossmans have a full range of Unicorn products including their incredibly cute 60cm Unicorn Soft Toy.
Something for older kids too with a new Torq Edge Scooter, designed for those with better scooter skills. Available in two colours the Torq Edge will add even more on trend scooting style to the range. Glowing lights are everywhere including on the new Glow boots with light up soles, kids can be truly light on their feet!

Visit London Toy Fair and meet the King of Slime!

Olympia 23rd to 25th January 2018
H. Grossman Ltd Stand E49

Ends.

For further information
Julie Pittilla 07860542559
juliep@pittillapr.co.uk

Full media kit with images here
Media pack
This press release was distributed by ResponseSource Press Release Wire on behalf of Pittilla Public Relations in the following categories: Children & Teenagers, Women's Interest & Beauty, Business & Finance, for more information visit https://pressreleasewire.responsesource.com/about.