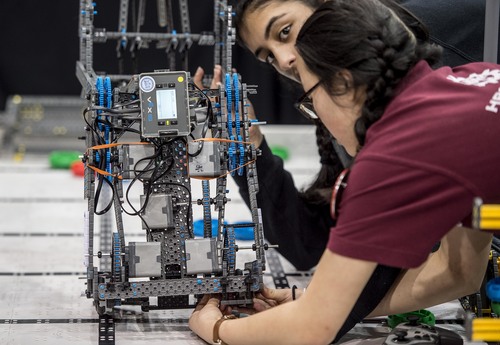 Today is all about Girl Power and on International Women's Day (8th March 2018), one all-girls school in London is celebrating their achievements in STEM learning as students prepare to embark on a journey to be crowned VEX Robotics World Champions. Hampstead based Henrietta Barnett School for Girls has its own robotics club which has been solely credited for increasing the uptake of pupils enrolling on Design &Technology courses at both GCSE and A-Level at the school. The GCSE course alone has seen a dramatic 40% increase in uptake, which for an all-girls school, is quite extraordinary, especially when the subject is on the decline in many UK schools.

The school is fast-achieving cult status in robotics circles as their female pupils continue to be one of the top performing UK schools in robotics learning. Led by teacher and mentor Andrew Duffey and his colleague Sean Kelly, the school teaches robotics both during the curriculum and in extra-curricular clubs with 75 girls designing, building and programming working robots.

As the stand-out school at the VEX IQ Challenge UK National Finals, Henrietta Barnet School will now send their outstanding teams to Kentucky, USA in April to compete on the world stage at the VEX Robotics World Championships. There they will compete against the leading student teams from over 40 countries from around the world.

Judged by UK industry heavyweights and experts in the field of robotics, including STEM ambassadors from, Autodesk, COMAU, RAF and Lockheed Martin, and not to mention the brains behind prolific Robot Wars teams, Apollo, Concussion and Sabretooth. The event is not the first year that Henrietta Barnett has bowled over the judging panel and is testimony to the work put in throughout the school year.

The school's extra-curricular robotics club is over-subscribed and even has a waiting list that's 90 students long. Andrew's only reasons for not increasing the team numbers at the moment are space and budget. Those taking part range from 12-18 years of age.

Andrew Duffey has worked at Henrietta Barnett School for the last five years as Head of Design & Technology. He has been named VEX Robotics Volunteer of the Year, having given up much of his free time to mentor the girls and a number of independent teams and comments:

'International Women's Day is the perfect time to celebrate the achievements of the students at Henrietta Barnett. The forward-thinking and innovation they show when creating more and more sophisticated robots is truly staggering and I believe we are witnessing future leaders of the engineering world. To hear the judges were genuinely astonished by the quality, design and preparation of our teams is very rewarding and I couldn't be more proud of their achievements.'

Following last year's championships, 95% of females questioned said they now believed STEM subjects were fun, creative and exploratory. A huge majority of female students not only are more interested in learning more about robotics but also wanting to take Science or Maths in both school and college and 9 out of 10 students improved their approach and confidence across all aspects of STEM learning.

Andrew Duffey continues:

'What we hope that our students and indeed other girls take from our robotics club is that they can be whoever they want to be and understand how they can be catalysts to inspire younger generations starting their educational journey.'

Bridie Gaynor, Competitions Manager at VEX Robotics (UK & Europe) adds:

'Every year we welcome more and more female teams to the competition and we want to shatter the myth that STEM and engineering careers are simply a boys domain – we even have a division of our VEX Competition named after pioneering computer programmer Ada Lovelace. What we have seen from the girls at Henrietta Barnett School is simply astonishing and we hope that their achievements are recognised on International Women's Day.'

Ends.

For further information, interviews and images, please contact Lianne Bertelli at Bertelli Communications on 07739 023 756 or email: lianne@bertellicommunications.co.uk
This press release was distributed by ResponseSource Press Release Wire on behalf of Bertelli Communications in the following categories: Women's Interest & Beauty, Business & Finance, Education & Human Resources, for more information visit https://pressreleasewire.responsesource.com/about.