World Extreme Medicine Heads to Edinburgh For Annual Conference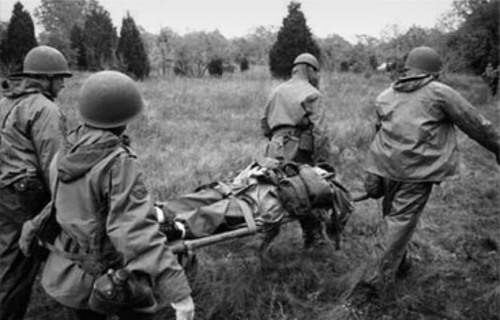 there stands a niche group of medical professionals carrying out lifesaving procedures in some of the world's most dangerous and harsh settings.
The term 'Extreme Medicine' was first coined by World Extreme Medicine founder Mark Hannaford FRGS FRSA from Plymouth in Devon, UK , and describes the practise of medicine in
remote, inhospitable and challenging environments. This is the aim of the World Extreme Medicine Conference in Edinburgh; bringing together those with experience in this type of situation to share their knowledge and expertise and improve the level of care given.

Medicine is constantly pushed to new limits, becoming increasingly effective and advanced. Within this development of modern medicine, there stands a niche group of medical professionals carrying out lifesaving procedures in some of the world's most dangerous and harsh settings.

From Friday November 23 2018 to Sunday November 25 2018, World Extreme Medicine will be hosting its conference in Edinburgh for doctors and medical minds to come together and share their experiences of medicine in extreme environments. The conference promotes cross-disciplinary working and attracts over 800 professionals annually, with this year set to be the biggest yet. The organisers are looking for potential sponsors to support the conference and be a part of this significant global medical community.

The venue for the World Extreme Medicine Conference is Dynamic Earth in Edinburgh, Scotland, a city known for its innovation and creativity. World Extreme Medicine is located in Axminster, Devon and some of their training courses are conducted in the local area including historic maritime city, Plymouth.

The conference covers a variety of different disciplines within medicine; Pre-Hospital, Disaster and Humanitarian, Expedition, Endurance and Extreme Sport, Space and Extreme Medicine. Specialists in each area will speak over the three-day conference. The talks attract a wide variety of medical professionals from many different backgrounds, including the Armed Forces, expeditioners, athletes and emergency responders.

Speakers at this year's conference include Jason Fox, a former Royal Marine Commando and SF instructor on the hit Channel 4 series 'SAS Who Dares Wins' and Dr Saleyah Ashan, a former British Army Captain and filmmaker who travels to some of the most hostile environments to improve outcomes of the most disadvantaged. Doctors Under Fire, an initiative that works in war zones to reduce the impact that conflict has on those who need urgent medical attention, was also launched during a World Extreme Medicine conference. Dr Saleyah Ashan is a prominent member of Doctors Under Fire along with Hamish De Bretten-Gordon, a chemical weapons specialist and fellow speaker at the 2018 World Extreme Medicine conference.

In contrast, ocean rower, environmental advocate, writer and speaker Roz Savage MBE FRGS will also speak in addition to Laura Penhaul, previous lead physiotherapist for Team GB Paralympians and team leader of the Coxless Crew who rowed unsupported across the pacific over nine months.

As well as this, Eddie 'the Eagle' Edwards, the 1988 Great Britain representative in Olympic ski jump will be speaking at the conference in November along with former NASA astronaut and American physician Scott Parazynski. There are many other speakers confirmed with more set to be added later.

Mark Hannaford, founder of World Extreme Medicine said, "The World Extreme Medicine Conference is a fantastic opportunity for medical experts to congregate and share their wisdom. This is our seventh conference and it will be better than ever, giving everyone involved an opportunity to improve the standard of care given in challenging and far-off environments through the sharing of knowledge.

"The sponsorship packages on offer cater to different levels, meaning lots of people can get involved and become part of this brilliant event."
Tickets to the conference are now available and can be purchased through the website.

The conference runs from Friday November 23 2018 to Sunday November 25 2018 at Dynamic Earth, 112 – 116 Holyrood Road, Edinburgh, EH8 8AS.

World Extreme Medicine are based on Floor 2, Thomas Whitty, Silver Street, Axminster, Devon, EX13 5AH, United Kingdom.

Links:

World Extreme Medicine website: https://worldextrememedicine.com/

World Extreme Medicine Conference website: http://www.extrememedicineexpo.com/

Book Tickets: https://extrememedicineexpo.com/registration/

Dynamic Earth: http://www.dynamicearth.co.uk/

ENDS

Mark Hannaford is available for interview.

Media information provided by Famous Publicity. For more information, please contact Adam Betteridge at adam@famouspublicity.com, Ed Patience at ed@famouspublicity.com or Josh Balmer at josh@famouspublicity.com or call the office on 03333 442 341.

Editor's Note

For more details about the sponsorship opportunities available, please contact a member of the team mentioned above or email operations@extreme-medicine.com.

About World Extreme Medicine

World Extreme Medicine (formerly Expedition & Wilderness Medicine) is the world's leading provider of expedition, wilderness and remote medicine training courses for medical professionals.

Designed to provide medics with the expert knowledge and practical skills they need to become valuable members of an expedition or a remote medical team, World Extreme Medicine's courses achieve 100% approval ratings from participants, with 82% deeming them 'Excellent'.

Courses take place both in the UK and abroad, with locations carefully chosen to enhance learning opportunities in the field and enrich the experience for all those taking part.

The term 'Extreme Medicine' was first coined by Mark Hannaford and Dr Sean Hudson as an umbrella term for these extra-clinical medical practices.
This press release was distributed by ResponseSource Press Release Wire on behalf of World Extreme Medicine in the following categories: Men's Interest, Entertainment & Arts, Health, Leisure & Hobbies, Women's Interest & Beauty, Sport, Business & Finance, Education & Human Resources, Medical & Pharmaceutical, Media & Marketing, for more information visit https://pressreleasewire.responsesource.com/about.