Currence Annual Report 2017: iDEAL and iDIN growing fast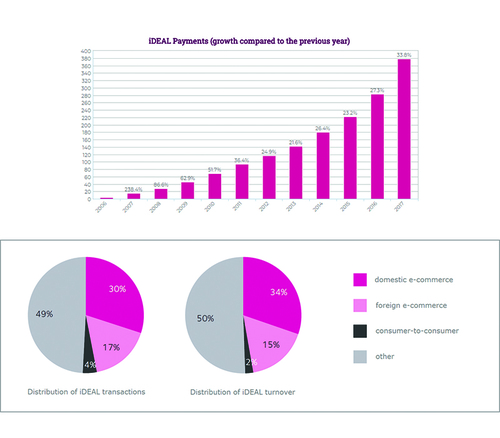 The strong growth in online payments in 2017 is partly due to new applications for iDEALand through the use of the iDEAL QR code.
Amsterdam, 30 Mei 2018 /EZPress/ - The iDEAL online payment method performed well in 2017, thanks to the underlying secure standards and uniform rules and regulations. The number of payments with iDEAL has increased considerably more in the past year than in the previous five years, by 33.8 percent, according to the annual report 2017 of Currence, the product and brand owner of iDEAL. Online identification and login with iDIN on websites of companies and institutions, has been used 1 million times. iDIN relies on the same approach and technology as iDEAL.

New applications of iDEAL
In 2017 Dutch bank customers made more than 378 million payments with iDEAL for over 33 billion euros. They increasingly payed in foreign web shops with iDEAL: in over 7000 web shops in 60 foreign countries Dutch customers can now pay with iDEAL. One out of every three iDEAL payments in e-commerce is concluded in a foreign web shop.

"The strong growth in online payments in 2017 is partly due to new applications for iDEALand through the use of the iDEAL QR code."

The strong growth in 2017 is partly due to new applications for iDEAL, such as mutual payments by consumers, with mobile apps and so-called payment requests, and through the use of the iDEAL QR code. iDEAL also owes its ongoing success to uniform rules and regulations and secure standards for fast, easy and reliable online payments via the customer's own bank.

The clear collective standards for iDEAL provide guidance to merchants and consumers alike. Consumers trust iDEAL because of the familiar payment screens and proven authentication methods from their own banks. This leads to a very high conversion rate of 90 percent for merchants. Moreover, a merchant only needs to conclude a single agreement to reach the customers of all Dutch consumer banks, with a simple connection to one of the 70 providers of iDEAL payment services around the world.

Proven technology for iDIN
The proven technology behind iDEAL is also very suitable for safe online identification and login with iDIN at other companies and institutions ('merchants'). With iDIN, the consumer keeps full control over the identity or login data offered to merchants, through his own bank. Merchants can fully rely on the identity or age of a Dutch customer because the customer's bank has already carefully checked and recorded the identity of that customer when the bank opened his or her payment account.

Press release: https://www.currence.nl/en/nieuws/ideal-idin-growing-fast-20...
Annual Report 2017: https://www.currence.nl/wp-uploads/2018/05/Currence-Annual-R...

//Ends

Not for publication
More information: Berend Jan Beugel, press relations, +31 6 39 49 60 11, press@currence.nl

Currence is the brand owner of the Dutch online payment products iDEAL and eMandates and the online identity and login service iDIN. We issue licences and certificates to service providers. Currence aims to facilitate competition and transparency for uniform payment systems in the Netherlands, while maintaining high standards of quality, efficiency and security for our products
This press release was distributed by ResponseSource Press Release Wire on behalf of Steijger Communications BV in the following categories: Business & Finance, Media & Marketing, Retail & Fashion, for more information visit https://pressreleasewire.responsesource.com/about.