Promapp to provide process management technology to support Wizz Air's growth plans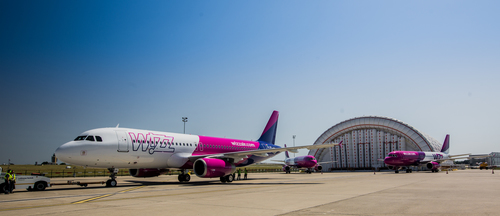 Promapp will provide us with a centralised intelligence platform where we can record all the core processes in our business
Promapp Solutions – an industry leading provider of cloud-based process management software has been chosen by Wizz Air, one of Europe's fastest growing airlines and the leading low-cost carrier in CEE, to provide process management technology.

"We have the clear ambition to become one of the top 5 airlines in Europe within the next ten years, with more than 300 aircraft carrying over 100 million passengers, and a team of 10,000 employees. Promapp will provide us with a centralised intelligence platform where we can record all the core processes in our business," says Stephen Jones, Executive Vice President and Deputy CEO, Wizz Air.

Digitalisation strategy will assist Wizz Air to increase value, lower costs and enhance service

As part of a wider strategy to fully digitise Wizz Air's entire business, Promapp will be rolled out across the airline into areas including Operations, Commercial, Marketing, HR and Finance. An initial training event involved over 100 people including managers and department heads from all across the company.

"Together with Promapp we will be able to further optimise and automate our processes, driving our costs even lower and reinforcing our position as the undisputed cost leader in the industry. This will allow us to offer even lower fares to our customers, as well as continuously enhance our customer service," says Mr Jones.

Major benefit for on-boarding and training of staff

With Wizz Air growing at over 20 percent per year, Promapp will be particularly beneficial for communicating company processes to new staff. The tool will also guarantee that knowledge is shared and updated in the long term, and that all critical processes are recorded in one place.

"We do not simply see Promapp as an external systems provider but as an integral part of our growth plans. As such we are looking forward to a long and fruitful cooperation together," says Mr Jones.

As Wizz Air looks to expand its network of destinations, the company will also use Promapp for process variant management, so core processes can be modified to take into account regional differences such as language, culture or regulations.

Why Promapp?

After a competitive selection process, Wizz Air selected Promapp for its user-friendly platform, with an easily accessible, quick process overview and straight-forward steps for process creation.

Key benefits of deploying Promapp

Some of the key benefits that Wizz Air expects from deploying Promapp include:

• Support to triple growth over next 10 years
• Facilitate the digitalisation of the whole business
• Faster onboarding of staff and more effortless training
• Save time with quick introduction of new processes and refinement of existing processes
• Ability to identify whether processes need to be optimised, improved, clarified or automated
• Help to lower costs and increase value for passengers
• Manage geographical differences in various processes
• Creation of a dedicated platform for centralising intelligence across the business
• Enhance customer experience and speed up response times to circumstances beyond airline's control e.g. weather, bird strike
• Better prepare for any potential post-Brexit changes e.g. regulations
• Retention of expert knowledge and intellectual property

For more information about Promapp, visit www.promapp.com.

About Promapp

Established in 2002, Promapp is the business process platform teams love to use. Promapp has helped hundreds of organisations worldwide to unlock their improvement potential with easy-to-follow processes developed, shared and applied by teams every day.

Promapp's cloud-based business process management (BPM) software makes it easy to create, navigate, share and change business processes, enabling continuous improvement, risk management, quality assurance and business continuity. Providing an intuitive online process repository, an integrated process mapping tool, and a process improvement toolset, Promapp's proprietary software fosters a thriving business improvement and process management culture. Promapp supports the development of smarter and safer ways to work, while encouraging sharing of information by operational teams rather than limiting it to process analysts and technical specialists.

Promapp's wide range of public and private sector customers includes: Toyota, McDonald's, Coca-Cola Amatil, Lantec, MJ Hudson, MODEC, OIG, Ricoh Australia, Konica Minolta, Air New Zealand, Audi Australia and the Department of Justice, Victoria.

The company is headquartered in Auckland, New Zealand, with offices in UK (London), USA (San Francisco, CA and Austin, TX) and Australia (Sydney and Melbourne). www.promapp.com

Press Contact: Jane Moores, TTA Communications Tel: 01225 580214
Jane.moores@ttacomms.co.uk

About Wizz Air

Wizz Air is the largest low-cost airline in Central and Eastern Europe, operates a fleet of 100 Airbus A320 and Airbus A321 aircraft, and offers more than 600 routes from 25 bases, connecting 141 destinations across 44 countries. At Wizz Air, a team of more than 4,000 aviation professionals delivers superior service and affordable ticket prices making Wizz Air the preferred choice of over 30 million passengers in the past 12 months. Wizz Air is listed on the London Stock Exchange under the ticker WIZZ and is included in the FTSE 250 and FTSE All-Share Indices. Wizz Air is registered under the International Air Transport Association (IATA), Operational Safety Audit (IOSA), the global benchmark in airline safety recognition. The company was recently named 2017 - European Airline of the Year by Aviation 100, a renowned annual publication that recognizes the year's most outstanding performers in the aerospace industry.
This press release was distributed by ResponseSource Press Release Wire on behalf of TTA Communications (Bath) in the following categories: Business & Finance, Education & Human Resources, Computing & Telecoms, Transport & Logistics, for more information visit https://pressreleasewire.responsesource.com/about.