This British made product really is the Ultimate Julienne Peeler!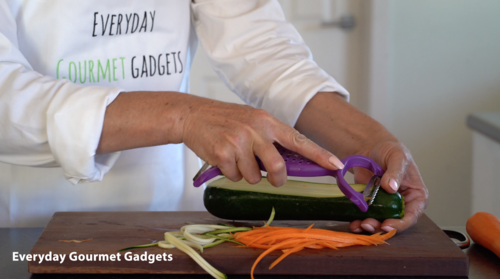 This handy, British made gadget can shred, peel, slice, grate AND make courgetti spaghetti. It is the perfect companion for every kitchen - It's easy to use, easy to clean, and takes up no space in your cupboard.

London May 13th - 2019 - So spring arrives and we all jump on the healthy eating band wagon, in a quest to lose the winter weight and get fit for summer. But after a while, it can start to become a bit of a chore, and prepping all those vegetables can become very time consuming.

The new Ultimate Julienne Peeler has now arrived – and this masterpiece ticks all the right boxes when it comes to prepping healthy food. It's quick, easy and effortless – and takes no time to clean!

It has two different blades on one handle. One blade for peeling, slicing and shredding the other side has a fabulous quality, serrated julienne blade that makes fresh courgetti, "Boodles" or cauliflower rice in seconds! The ergonomically designed handle even has a grater on the top, perfect for garlic or ginger.

The product designer, Ingrid Howes has been professionally demonstrating kitchen gadgets for over thirty years "I have spoken to 100,000's of people over the last three decades, and I know what people want. Something simple, something that works, it has to be easy to use and easy to clean".

This product is also excellent for slicing ribbon cuts, which are becoming increasing popular in low carb replacement recipes. The extra wide blades make it perfect for slicing cheese or making veggie chips, too!

Not only does this simple product make peeling and slicing vegetables so easy, it is environmentally friendly too. Both of the stainless-steel blades can be replaced in the future if needed (although they do have a 12-month warranty) even the handles can be washed, chipped and recycled at the UK factory (or your local UK council).

They are completely portable, making them ideal for the boat, caravan or camper.
And the washing up is a breeze too, you can put them in the dishwasher or rinse in warm water and air dry.
With no batteries to replace or power required, they are an essential bit of kit for any size kitchen.

The Ultimate Julienne Peeler makes the perfect gift - whether you're looking for Christmas stocking fillers, something unique for your foodie friends or the kids off to Uni.


PRODUCT INFORMATION
Title: The Ultimate Gourmet Gadget
Released by: Everyday Gourmet Gadgets
Introductory price: £12.95 per unit (Include UK shipping)

**READERS OFFER £3 off with unique media code
(Discount price £9.95 includes UK shipping)

Click here to see the Ultimate Julienne Peeler in action!


everydaygourmetgadgets.co.uk
everydaygourmetgadgets@gmail.com
Contact: Ingrid Howes 07493109767

Note to editors:

Sure, the spiralizing trend over the past decade looks like it's here to stay for the foreseeable future, you only have to look in the supermarkets. There are bags full of the stuff creeping into the aisles, along with a wide range of other processed raw vegetables like "Cauliflower rice" and "Boodles". The problem with spiralizers is, if you want one that works, you have to get a good one, as there are plenty that are not fit for purpose. "I have spoken to hundreds of women that have bought three, different types of spiralizer, in the quest to find a practical one.. and they still aren't happy, because the ones that do work, you have to get out and often assemble, then wash and dry, before trying to fit it back in the box, and it is just too much effort for your one courgette or half a carrot, which is what most people want to do on a daily basis".
Please feel free to contact Ingrid Howes, for further information or comment.
This press release was distributed by ResponseSource Press Release Wire on behalf of Everyday Gourmet Gadgets Ltd in the following categories: Children & Teenagers, Men's Interest, Health, Leisure & Hobbies, Home & Garden, Women's Interest & Beauty, Food & Drink, Travel, Retail & Fashion, for more information visit https://pressreleasewire.responsesource.com/about.