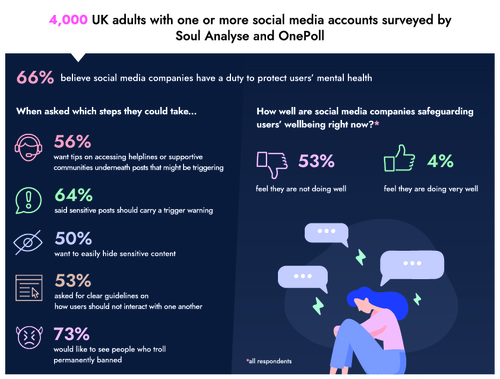 Two thirds of UK adults with a social media account believe social media companies have a duty to protect the mental health of people who use their platforms, according to new research.

4,000 people were surveyed by wellbeing company Soul Analyse and OnePoll, focusing on social media use during the pandemic.

When asked which steps social media companies could take, over half (56%) of those calling for mental health protection felt platforms should suggest tips on how to access helplines underneath posts that might be triggering, or point towards relevant communities that can offer support.

64% said sensitive posts should carry a trigger warning, while half wanted to be able to easily hide sensitive content. Clear guidelines on how users should not interact with one another (53%) also ranked highly.

Almost three quarters (73%) said they would like to see people who troll permanently banned.

Overall, the...
Read full release