Encore Networks router solutions signs master partnership agreement with Wireless Logic Group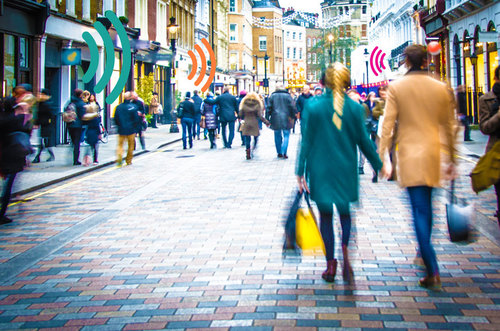 "Working with Encore allows our team to create highly competitive end-to-end solutions for 3G/4G primary/failover and rapid deployment.
• Encore's globally competitive and diverse router solutions ready for European expansion

• UK, France and Germany reseller channels to be developed by Wireless Logic Group's connected hardware specialist – Nucleus Networks

• Wireless Logic Direct to develop vertical-focused 'end-to-end' 3G/4G connected solutions


Wireless Logic Group (www.wirelesslogic.com) – Europe's leading M2M/IoT connectivity platform provider has been appointed UK partner to Encore Networks, a leading manufacturer of wireline, cellular and satellite VPN routers. The agreement allows Wireless Logic Group to carry Encore's lines of BANDIT™ and EN™ commercial and industrially hardened 4G LTE routers. Wireless Logic will use its mobile hardware company, Nucleus Networks, to develop the reseller market within the UK, France and Germany, tapping into its own base of partners and forging new opportunities. Nucleus is well placed to grow an Encore base within this evolving sector.

Encore's EN™ Series of commercial and industrial grade 3G/4G routers are designed for M2M and IoT applications such as Digital Signage, Business Continuity/Failover, Video Surveillance, Point-of-Sale and ATMs on public and/or private wireless 4G LTE networks all managed with enCloud™, Encore's cloud-based enterprise management platform.

Meanwhile, Wireless Logic UK and their German and French counterparts will look to integrate Encore router solutions into their direct channels, which have seen a marked increase in 'solutions-based' business, combining router hardware, pre-configuration and mobile connectivity. The direct team will be launching a number of tailored vertical packages delivered on a simple OPEX-based monthly cost structure. The first of these launches has already taken place at Retail Business Technology Expo 2017 in London. Here, a number of end-to-end connected solutions were unveiled suitable for Retail Business Continuity/Failover, Pop-up Shops, Rapid Deployment Connectivity and Electronic Point of Sale (EPoS). Both organisations have also recently attended the London-based ATMIA event, demonstrating back-up solutions for ATM (cash machine) applications.

In developing the direct channel, Wireless Logic will integrate Encore's enCloud™ management platform into their SIMPro cloud-based SIM control platform which enables users to have complete visibility and management of router estates and associated cellular connectivity. The combined platforms will create new levels of granular management with multi-level permissions access, remote updates and diagnostics, data aggregation and real-time usage tools. Resilience and security are further enhanced by tailored APN interconnect/VPN infrastructure solutions that all form part of Wireless Logic's M2M/IoT connectivity eco-system.

Peter Madsen, President of Encore Networks comments: "I am excited to align Encore Networks with a company as experienced and with such market-leading presence as Wireless Logic Group. As Europe's premier IoT connectivity platform provider, Wireless Logic Group offers a smarter approach to the challenges of M2M and IoT, as they understand every application has its own unique requirements. This vision gives Wireless Logic customers the confidence to know that they have access to the widest range of services and the most highly-specialised products available."

Jon-Paul Clarke, Business Development Director of Wireless Logic Group comments: "Working with Encore allows our team to create highly competitive end-to-end solutions for 3G/4G primary/failover and rapid deployment. From office and retail to industrial and ruggedised environments, the addition of the Encore portfolio of routers will enable us to deliver more choice and value with the ability to roll-up mobile airtime and support into a single on-going monthly fee."



ENDS


About Wireless Logic Group
Europe's leading independent M2M (Machine to Machine) and IoT (Internet of Things) connectivity platform provider, Wireless Logic Group works with over 1000 application providers, systems integrators and enterprises delivering a portfolio of services including management platforms, private network infrastructure and specialist mobile, satellite, fixed line and low power wireless area network (LPWAN) connectivity. All services are supported by a team of multi-disciplined personnel including technology development, consultancy and client management.

Connected assets are managed and controlled across a sector-leading management platform - SIMPro - which has been designed and developed to meet the specific needs of M2M and IoT applications. Continuous investment in technology enables Wireless Logic to provide an increasing suite of value-added products which include specialist mapping and location-based services from Google and HERE, device management platforms, security encryption services and end-to-end managed hardware solutions. The organisation is ISO 9001 Quality Management certified.

Horizontally positioned, Wireless Logic works with many vertical applications - these include asset and vehicle tracking, telematics, metering, security, electronic payment, m-healthcare and a range of enterprise solutions. It now manages over 2.4 million subscriptions utilising local, global and multi-profile/IMSI SIMs via their Intelligent Network, all designed to provide flexible and tailored low and high data usage tariffs for specific applications. The group has strategic partnerships with multiple European Mobile Network Operators (MNOs) which enable a global reach to more than 600 international networks and over 900 countries. The breadth of connectivity options gives customers an unrivalled service offering with no other platform provider able to deliver such a broad scope of competitive and strategic communication channels.

Wireless Logic's specialist mobile hardware division, Nucleus Networks joined the group in 2016. For more information, visit www.nucleusnetworks.co.uk


Founded in 1999 by CEO Oliver Tucker and CSO Philip Cole, Wireless Logic is backed by CVC Capital Partners (www.cvc.com). The organisation's European headquarters are located in Hurley, Berkshire UK with country offices in Denmark, France, Germany and Spain.

For more information, visit www.wirelesslogic.com



About Encore Networks
Encore Networks www.encorenetworks.com is a leading manufacturer of commercial enterprise and industrial hardened routers. Encore Routers embed 4G cellular modems and feature IP, SSL, VPN, Firewall, Ethernet Switching, Legacy Copper Line POTS replacement, and serial data to IP interworking. Made in the USA, Encore's BANDIT™ and EN™ routers are purpose built for numerous Industrial Internet of Things (IIoT) and M2M applications including SCADA, Smart Grid, Security, Transportation, Lottery, Retail and Banking industries. Encore's enCloud™ Management System enables users to manage, monitor and configure distributed enterprises from a central location through the cloud. Encore enables companies to reduce total cost of ownership by reducing dependence on high cost wireline connections and converting them seamlessly to next generation cellular connections while protecting their embedded equipment investment.

Encore Networks EMEA Contact:
David Moss - +44 (0) 7717 005877 – dmoss@encorenetworks.com

Wireless Logic Group Contact:
Simon Lipyeat - +44 (0) 7770 941358 – simonlipyeat@wirelesslogic.com
This press release was distributed by ResponseSource Press Release Wire on behalf of KiS Marketing Ltd in the following categories: Business & Finance, Retail & Fashion, Public Sector, Third Sector & Legal, Manufacturing, Engineering & Energy, Computing & Telecoms, Transport & Logistics, Construction & Property, for more information visit https://pressreleasewire.responsesource.com/about.