London tea room becomes the first in UK & Europe to offer the 'Selfieccino' – a cappuccino with your face on it!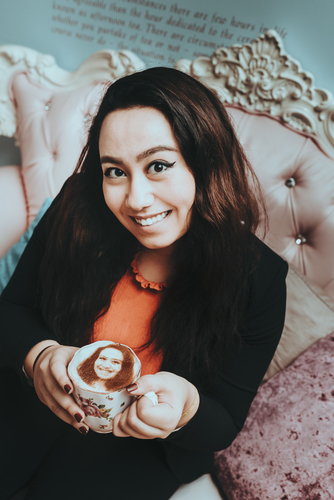 The Tea Terrace introduces futuristic technology that enables customers' selfies to be printed on the froth of their cappuccinos with edible food colouring

London (November 28th, 2017): A London-based chain of tea rooms has become the first in the UK and Europe to offer what it is calling the "Selfieccino", a cappuccino with the customer's selfie printed on it using futuristic printing technology that scans the selfie and injects edible food colouring into the froth to print the image.

"We are proud to be introducing something quite unique to the UK market. It's the first time people will be able to print their selfie, or any image, on their cappuccino, said Ehab Shouly, Managing Director of The Tea Terrace, which owns and operates three tea rooms at the House of Fraser department stores in London Oxford Street, London Victoria Street and Guilford.

Customers simply take a selfie and then send it via a messaging app to the barista at The Tea Terrace who will then prepare a delicious frothy cappuccino as they would normally do. The barista then puts the mug of cappuccino under the high-tech printer which then prints the selfie on to the froth in less than 30 seconds.

"The likeness and accuracy of the image is amazing. And it still looks like what is known among coffee lovers as 'barista art', which is when a barista spends time creating a likeness of a customer on the froth manually. "The problem with barista art is that by the time it's done, the cappuccino's gone cold," Shouly said.

While The Tea Terrace, being a tea room, Is well known for its wide variety of teas – it serves more than 25 different flavours – the company is keen to offer excellent quality coffees as well. "We use only the best beans to create delicious coffees for our customers. The Selfieccino just takes it one step further," Shouly said.
"For us, today's dining experience is no longer just about having great food and drink. It's all about differentiation and about creating unique experiences that our customers can document on social media. Our research shows that restaurants today have the highest share of photos posted on social media," he added.

The Tea Terrace has been a pioneer in terms of creating photo opportunities for its customers to post on Instagram and social media. The company first introduced its fairy-tale 'throne chairs' a few years ago which became a favourite with customers. Last May, the tea rooms introduced Cinderella-style golden princess carriages in which customers can dine.

"Innovation and creating new concepts and new photo opportunities for our customers is the key driver behind our success. Millennials today form more than 50 per cent of our customer base and we have to give them what they want. Today's customers want great food, great service and great photos," said Lailana Shouly, Marketing & PR Director at The Tea Terrace.

The Tea Terrace plans to expand on its proprietary Selfieccino name. It has registered the domain names www.Selfieccinos.com and www.Selfieccinos.co.uk and plans to create a website where customers can post photos of themselves with their selfie coffees. "We expect the Selfieccino to be a big hit on Instagram and Snapchat," Lailana noted.

The Selfieccino will first be available at The Tea Terrace's branch in London on the 5th floor of House of Fraser Oxford Street and the product will then be rolled out to the company's two other branches at House of Fraser on Victoria Street in London and House of Fraser in Guildford, Surrey.

ENDS.

Note to Editors: For any media enquiries or for further information please contact Miss Lailana Shouly, PR and Marketing Director at The Tea Terrace. Email: lailana.shouly@theteaterrace.com
This press release was distributed by ResponseSource Press Release Wire on behalf of The Tea Terrace in the following categories: Children & Teenagers, Men's Interest, Entertainment & Arts, Leisure & Hobbies, Home & Garden, Women's Interest & Beauty, Consumer Technology, Food & Drink, Business & Finance, Travel, Media & Marketing, Retail & Fashion, for more information visit https://pressreleasewire.responsesource.com/about.