Survey Reveals 47 Percent of UK Shoppers Purchase Gift Cards for Self-Use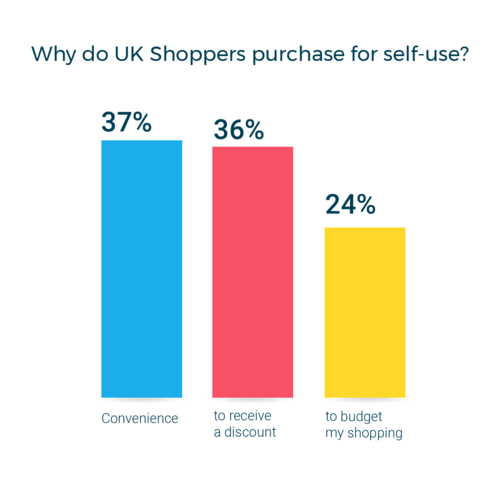 Gift cards bought for self-use are helping to deliver loyalty, drive overspend and assist retailers with customer acquisition…

London, 26 June 2018: Independent research commissioned by Zeek Mobile Ltd (Zeek), Europe's leading Retail Currency platform, has revealed that nearly half of UK shoppers (47 percent) are purchasing gift cards to spend on themselves. The study, the first of its kind in the UK, surveyed over 2,000 UK consumers and found that the top three drivers for self-purchase are convenience (37 percent), to receive a discount (36 percent) and to help budget shopping (24 percent).

"The UK gift card market is estimated to be worth around £6bn* and is usually associated with gifting, however, savvy shoppers are finding new, creative ways to use gift cards to fit their lifestyles," said Daniel Zelkind, CEO, Zeek Mobile Ltd. "Millennials in particular, who traditional retailers have typically struggled to reach, are adopting gift cards because they offer benefits they can't get elsewhere. This is an important trend. These young, tech savvy, budget conscious shoppers make up a quarter of the UK population and are leading the way for the next generation of shoppers."

Key survey findings include:

Which UK shoppers are buying gift cards for self-use?

Millennials (16-34 yr olds) are most likely (3 in 5) to purchase gift cards for self-use with a further 15 percent saying they do this often. Again convenience, receiving a discount and budgeting their shopping were the top 3 reasons for self-purchase.

Men are more likely than women to purchase a gift card for convenience and to receive a discount (both 41 percent for men versus 34 percent and 33 percent respectively for women). Women are more likely to do this to help them budget their shopping (26 percent compared to 22 percent of men).

When it comes to encouraging self-purchase, receiving a discount tops the list of things that would prompt Brits who haven't bought themselves a gift card before to do so (34 percent).

Who is benefitting from this trend?

Both online and offline retail are gaining from the self-use trend. Whilst shoppers are more commonly using them for online purchasing (66 percent), nearly half of respondents (48 percent) have used them to shop in-store where the average order value is 17 percent** higher than it is online.

Gift cards bought for self-use are helping to drive loyalty – with almost 3 in 5 (57 percent) of self-purchasers saying they visit a particular store or restaurant more often because of their gift card – and 24 percent agreeing that they do this 'much more' often. At 71 percent, Millennials are again leading this trend.

Over three-quarters of self-purchasers are overspending on their gift card providing retailers with additional revenue. On average they overspend by £28.35 per transaction. Millennials are overspending by the most, averaging an overspend of £33.34.

Gift cards are assisting retailers with customer acquisition - over 7 in 10 UK shoppers agree that a gift card would encourage them to shop at a store they wouldn't normally visit – additionally, nearly a quarter of Millennials say that it would 'definitely' encourage them.

Fashion is the most popular sector for self-use at 28 percent. However, supermarkets follow closely behind with 25 percent. Electronics came in at 23 percent and entertainment at 22 percent.

"It's time to rethink what gift cards are and what they can do for the retail sector. As consumer self-use use cases continue to increase, they offer a win win for shopper and retailer alike. We are seeing a similar trend on our own platform. Over 90 percent of our customers purchase gift cards for self-use, which has led us to reimagine them as Retail Currency," concludes Zelkind.

Zeek was established in 2014 and has quickly become Europe's leading Retail Currency platform, working directly with over 100 major retail brands. Today 97 percent of the gift cards sold on Zeek are for self-use, whilst the average self-purchaser buys 1.67 vouchers a week. The company has 600,000 registered users on its platform and sees between 20 - 40 thousand new users signing up each month.

-Ends-

Notes to editors: The research was conducted by Censuswide, across 2,000 consumers in June 2018. Censuswide abide
by and employ members of the Market Research Society which is based on the ESOMAR principles.

*According to the UK Gift Card & Voucher Association http://www.ukgcva.co.uk/index.html

**Based on a sample of 23,271 transactions on the Zeek platform in 2017. Av. spend in store: £87 vs £74 online

Contact Details
For more information please contact Alex Moscow, 9MM PR Ltd, 07967 604 652 / alex@9mmpr.com

About Zeek
Established in the UK in 2014 to offer a marketplace for unwanted gift cards, Zeek has quickly transformed into Europe's leading Retail Currency platform.

By enabling its retail partners to easily distribute their own currencies (gift cards bought for self-use) to consumers, Zeek is spearheading the creation of a new retail payment ecosystem and economy. One that is helping to deliver an increase in gross profits.

Partnering with over 100 leading retailers, Zeek has pioneered retail currency distribution, providing its partners with a potent channel for driving additional revenue and profit, customer acquisition, loyalty and insight.

The company is now on a mission to transform retail currency into a primary payment method.
This press release was distributed by ResponseSource Press Release Wire on behalf of 9MM PR in the following categories: Personal Finance, Business & Finance, Media & Marketing, Retail & Fashion, for more information visit https://pressreleasewire.responsesource.com/about.