OMGTea founder reveals what happened when she faced TV's Dragons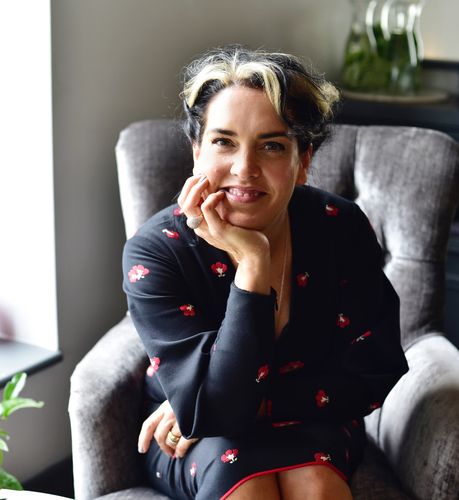 Katherine Swift, founder of OMGTea, went head-to-head with a panel of millionaire investors in BBC's Dragons' Den on Sunday night to try to secure a £50,000 investment for 7% of her green tea company.

The entrepreneur fought her way through over an hour of challenges and thorny questions, having been invited to apply for the hit TV show.

OMGTea sources the highest quality powdered Japanese green tea, which is known as Matcha and can be enjoyed hot or cold. Katherine presented the Dragons with samples of the emerald green product and told them about Matcha's benefits – it is packed with nutrients and provides 'clean' energy without the jitters.

There were sticky moments when one of the Dragons opened their bottles of OMGTea Iced Matcha without following instructions, and questions arose over the green tea's health benefits. But, undeterred, Katherine describes the whole experience as "amazing and beneficial".

Katherine says, "To be invited to apply for the programme was wonderful". It was a tough process but also extremely valuable to be able to talk about our OMGTea products and a market that is on the brink of exploding. The global Matcha market is already valued at £2 billion and is expected to reach a staggering £4.1 billion by 2023.

"That said, Matcha tea is a relatively new product in the UK and three of the five dragons didn't know what it was or grasp the difference between it and other teas, so it was a tall order to expect them to invest in a business that specialises in a product they were unfamiliar with.

And she smiles, "When Touker spilled his drink, I did hold my breath but I promise this won't happen if you twist then press and then shake as you should, before removing the cap. The bottles are easy to use and are a fabulous way to drink on the go, which is what more and more people wish to do.

"Also, Deborah questioned me about Matcha's health benefits and my personal story. To be clear, I'm passionate about robust evidence-based health benefits and we are doing what we can to help validate these and whilst early independent research into Matcha tea potentially halting the growth of breast cancer stem cells is extremely promising, we are committed to going to the next stage to validate the results further. I am extremely proud of what I have achieved"

Indeed, the research carried out at the University of Salford shows that Matcha green tea may have significant therapeutic potential, by mediating the metabolic reprogramming of cancer cells. Studies are ongoing and OMGTea will continue to work closely with one of the world's leading micro cell biologists, Professor Michael Lisanti.
The scientific team at Salford University, led by Professor Michael Lisanti, has been working on a breast cancer study for over two years. Katherine Swift met Michael whilst project managing a major UK breast cancer research appeal back in 2010, spurred on by her mother's stage 3 breast cancer diagnosis. OMGTea supplied the high grade Japanese Matcha tea for the purposes of the study.
Katherine has been dedicated to supporting research for the disease which affects one in eight women in the UK*, and founded the charity Healthy Life Foundation to raise funds to support ground-breaking research into age related diseases.

"Katherine was the driving force behind this study and donated the necessary product for testing," said Michael Lisanti, Professor of Translational Medicine at Salford University. "I have always been interested in natural products for cancer prevention and/or treatment so to finally have this positive research which confirms the effects of Matcha green tea on breast cancer stem cells is a very important first step forward.

"Matcha green tea fits very well with our interest in natural products. Our finding could also help explain why lifespan in Japan is among the highest in the world. I was very surprised that the Dragon's had little to no knowledge about the potential health benefits of this natural compound that is growing massively in popularity as people's interest in 'naturally healthy' explodes".

Research aside, the market for healthy drinks is booming. Leading retail trade magazine The Grocer notes that tea is now the only sector of the hot beverages market in growth, with sales soaring by 3.5% to £641.7m in the past year (Kantar Worldpanel 52 w/e 21 May 2017). This is down to the premiumisation of the category, with green, herbal and fruit teas being the only growth segments in the overall tea category.

The Grocer also points out that there's been an 8% increase in the past two years in the number of people who will pay more for quality tea, now standing at 31%. Among 25 to 34-year-olds, the figure rises to an impressive 44%.

This is no surprise to Katherine, as naturally healthy drinks have been sharply rising in popularity since she founded the business in 2014. Euromonitor research (Naturally Healthy Beverages in the United Kingdom, May 2017) from last year shows that there is an ongoing health and wellbeing trend in the UK, with consumers focused on products that are free from sugar and artificial ingredients.

Katherine comments, "Naturally healthy 'other' hot drinks, which OMGTea falls under, recorded the highest growth of 37% in value sales in 2016. And the consumption of naturally healthy beverages is set to increase at a compound annual growth rate (CAGR) of 4% in value sales at constant 2016 prices over the forecast period to reach sales of £3.5 billion in 2021.

Among the largest categories, Naturally Healthy Tea will record the highest growth rate of 10% in value sales. Within Naturally Healthy Tea, naturally healthy green tea will be the main growth driver, with sales stimulated by the increasing popularity of RTD green tea in helping to control weight.

"I may not have walked away with the investment but I am confident that OMGTea has a very strong future – since filming the show we have launched in several new retailers including Harvey Nichols and Caviar House and we are launching in Ocado imminently. Having survived the Dragons' Den, I now feel I can do anything and am excited about the future. "As for the Dragons? I think they will be kicking themselves in future…"

Please contact Tiffany Mattson (tiffany@omgteas.co.uk or 07703386324) for interview opportunities and comment. Katherine Swift is available to talk to broadcast and print media.

Sources:

*One in eight women will be diagnosed with breast cancer in their lifetime. Source: Cancer Research UK. https://www.cancerresearchuk.org/health-professional/cancer-...

Euromonitor: Naturally Healthy Beverages in the United Kingdom, May 2017

Link to full breast cancer study in Aging: http://www.aging-us.com/article/101483/text

Link to The Healthy Life Foundation www.thehealthylifefoundation.org

Notes for editors:

Pictures from the show are available for press on www.bbcpictures.co.uk.

Katherine Swift started OMGTea in 2014, four years after her mother was diagnosed with stage 3 breast cancer. Following extensive research into green tea and its myriad antioxidant benefits and energising effects, she sourced top quality organic Matcha from Japan and launched a range of finest Japanese organic matcha products.

Matcha tea contains caffeine but it works synergistically with L-theanine, which gives that wonderful boost but without the side-effects. So, no jitters, anxiety or heart palpitations.

Independent research by a team of scientists at Salford University demonstrates that Matcha green tea has the potential to halt the growth of breast cancer stem cells at a relatively low concentration. This early research is ongoing.

OMGTea is stocked in around 60 outlets including Planet Organic, Daylesford Organic, Fenwick, Victoria Health, Harvey Nichols, Caviar House and is soon to be launched in Ocado. It has won Great Taste awards across the entire OMGTea range.
This press release was distributed by ResponseSource Press Release Wire on behalf of OMG Teas in the following categories: Men's Interest, Entertainment & Arts, Health, Home & Garden, Women's Interest & Beauty, Food & Drink, Business & Finance, Media & Marketing, Retail & Fashion, Public Sector, Third Sector & Legal, for more information visit https://pressreleasewire.responsesource.com/about.